Historical Bamberg Breweries #3-- The Breweries of Sandstrasse
Note: This article was originally published in 2003. It has been updated slightly to reflect the changes on Sandstrasse in the past decade.
As you walk along the streets of the Bamberg Altstadt, you'll find many old buildings that look as if they once housed breweries. How do you tell? Prior to motorized transportation, beer was delivered by horse drawn cart. Most breweries had an arched entrance to allow the horse draw carts access to the inner court where the brewery was. The picture below of Brauerei Keesmann is a good example.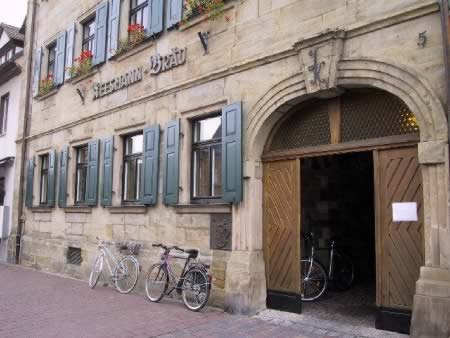 Sandstrasse is divided into two parts Untere Sandstrasse (Lower Sand Street) and Obere Sandstrasse (Upper Sand Street). As you walk down it today you will find it filled with bars, clubs and restaurants. So its not surprising to find that it once was also a hot bed of brewing.
As far as I can tell, the last brewery to operate on the Sandstrasse was Brauerei Einhorn ("Unicorn"). It was founded around 1490 and operating independently until the early sixties, when it merged with Brauerei Lorenz Doppel. It was located at Obere Sandstrasse 24.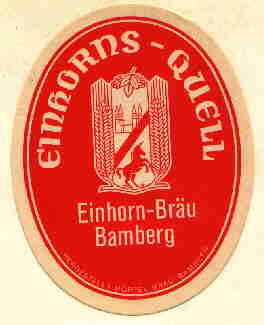 Label image courtesy of Klaus Ehm and his excellent website Das große Brauereiverzeichnis Deutschland (The Complete German Brewery Index)

The combined company operated under the name Brauerei L. Doppel und Einhorn Bräu until the early 1970's when it was aquired by Hacker-Pschorr-Bräu of Munich and the brewery closed.

>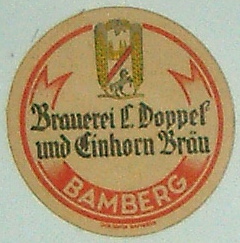 Coaster image courtesy of Frank Wetzel of www.BierRegion-Franken.info
So what is there today? At the time this was writen it was a night club called Nelson Lounge, which adding insult to injury, sports a big Paulaner sign.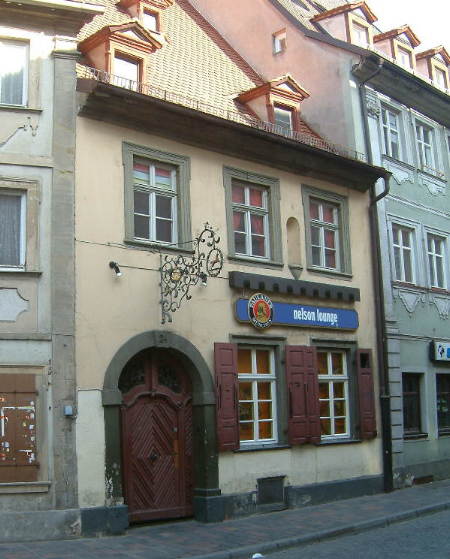 Former home of Brauerei Einhorn at Obere Standstrasse 24
The good news is the Brauereiausleger still hungs and the trademark Unicorn is still clearly visible.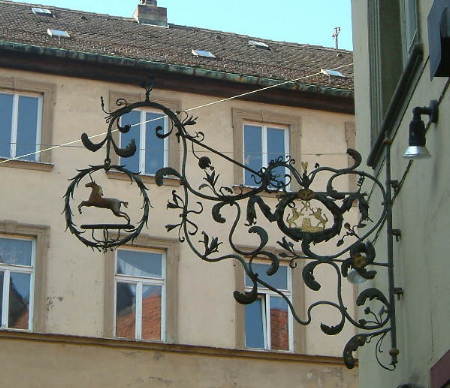 Ausleger from Brauerei Einhorn, Bamberg.
Update: 2014 -- After many years of being closed the building is now open as Ahörnla im Sand -- "Ahörnla" being Franconian dialect for "Unicorn". It appears to be a night club but they do have a beer contract brewed for them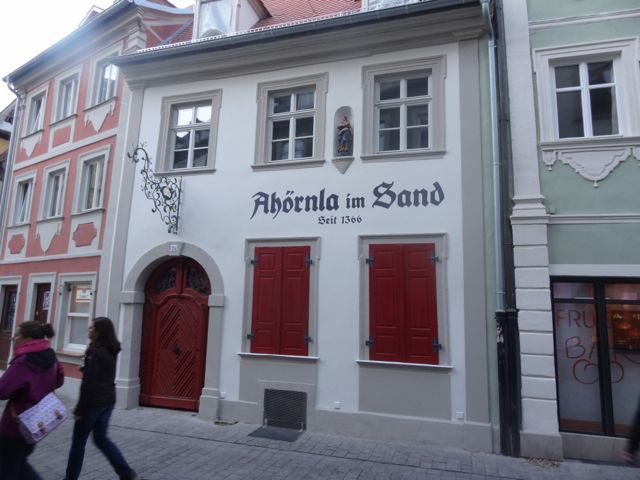 New bar at Obere Sandstrasse 20
A couple of doors down at Obere Sandstrasse 20 (where the night club Capri Keller now stands) there once was a brewery, Brauerei Schlüssel ("Key"). It appears it closed in the early 1920's.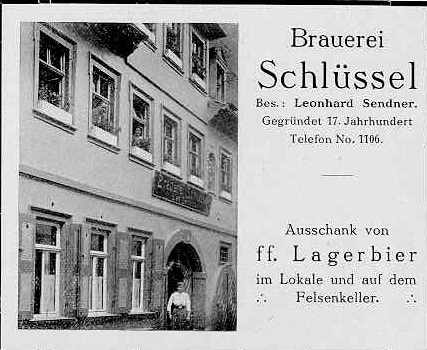 Ad from a 1918 Bamberg Directory
Moving down the street, Obere Sandstrasse 18 is the former home of the Gesellschaftsbrauerei ("Social Brewery"). It was started in the late 1800's by a man named Wagner (a common Franconian name). It appears to have closed before the First World War. Currently it is home to three pubs -- Rotenschild, the Jazz Club and Stilbruch.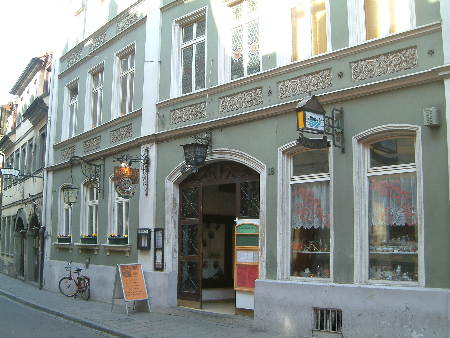 Former home of Gesellschaftsbrauerei
Just on the other side of where Brauerei Einhorn was (a/k/a Nelson Lounge) Obere Sandstrasse makes a jog and becomes Untere Sandstrasse. At Untere Sandstrasse 9 is now a chinese resturant, but until the late 1800's it housed Brauerei Wilder Mann. Little is known today about the brewery, othen than the last owner was named Georg Leicht.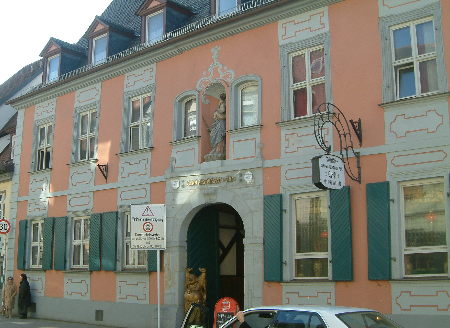 Former site of Brauerei Wilder Mann
A little farther down the street at Untere Sandstrasse 16 today stands a pub "zum Mondschein." The building has the characteristic look of a brewery and even the more modern sign looks as if it might have replaced a more traditional Brauereiausleger. Since there once was a brewery by the name of "zum Mondschein" I am going to make a leap and guess that this is were it was located. In any case, Brauerei zum Mondschein appears to have stopped brewing before the turn of the 20th Century.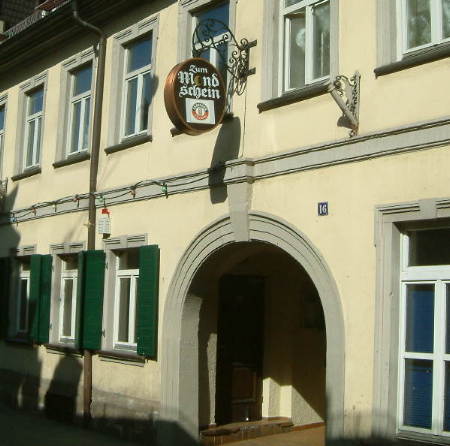 Gaststätte zum Mondschein
Zum Mondschein played a small part in the revolutions that swept Europe in 1848 — or at least in Bamberg's part of the revolutions. It was a hangout for some of the hard core "Radical Democrats" including Nikolaus Titus and Ignatz Prell.
Zum Mondschein also has another interesting historical significance. It is today mostly remembered for its part in the famous Bamberg Beer War of 1907. It seems that almost all breweries and pubs in Bamberg tried to raise the price of a Seidla (half liter) of beer from 10 to 11 pfennigs. Well this outraged the population who boycotted the price gougers. The two places which didn't raise prices — Mondschein and Weierich — did a land office business. After a week of this, common sense prevailed and the price increase was rolled back citywide.
At that time the price increase was roughly from 2.3 cents to 2.6 cents in 1907 US dollars (the price went from 10 pfennigs to 11 pfennigs). Taking into account inflation since then that works out to an increase from 43 cents to 48.5 cents in 2003 dollars. Still a heck of a good price for a half liter of beer, and not likely to cause a riot today!