Merchandise
Check out our new shop at CafePress You can order T-shirts and other great merchandise and every purchase helps support this site.
Also, when you click on the Amazon box below, any purchases you make also help support the site.
Booklet "The Beer Drinkers Guide to Bamberg"
A website is a great source of information, but its kind of hard to stick in your back pocket when walking the streets of Bamberg. I have collected the best information from this site (and more) and included a map showing all the breweries and many other interesting beer spots. The booklet is a 28 page PDF but it is constantly growing. That's not a problem because you will receive free updates thru the end of 2015 when you purchase the booklet for $5

A Kindle version is available as well:
The Beer Drinker's Guide to Bamberg
Now Available! iPhone/iPad App
And now you can buy a version for your iPhone or iPad on the Apple App Store or your Android device on the Play Store.
Franconian Brewery Cards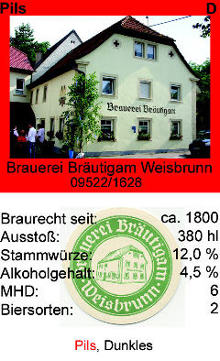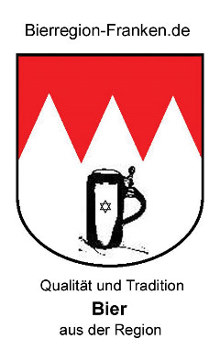 These are for a German game called Quartet, the rules of which seem only slightly less complex than fizzbin. But no matter, each card in the 32 card deck comes with a pircture of a Franconian brewery, complete with important information and a picture of their beer coaster. Think of them as Franconian Brewery Trading Cards.
The deck retails for €3.80 in the Bamberg area, but here it is only $5.00 plus $2.00 shipping and handling.
New flash! Edition 3 is now available for the same price. 32 new breweries.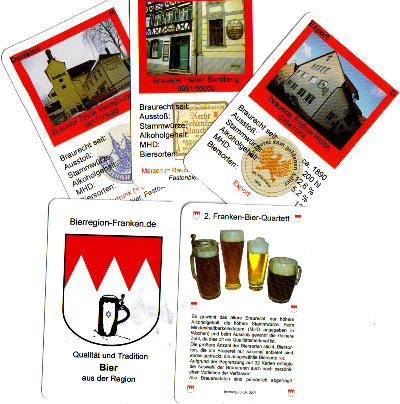 Bamberger Dialekt
This new 80 page booklet (size 8" by 5 1/2") written by Lieselotte Tomaschek is both funny and practical. It has translations of hundreds of expression into both formal German ("Hoch Deutsch") and English -- even some that are beer related such as "a U" (meaning "one Ungespundetes bier")
The books in stock and ready to ship. The cost is $10, including US Postage. Send an email to shop@FranconiaBeerGuide.com or click the paypal button below.
For our German and European readers, the books are available at many bookstores in Bamberg, one of which is Görres, Grüner Markt 5, 96047 Bamberg.: Toll Free 0800/4637737 or in Bamberg 980840.
Back in Stock!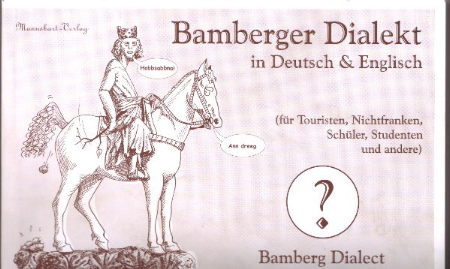 FranconiaBeerGuide.com caps
We are taking orders for baseball style caps. The caps are 100% cotton, black with the Franconia shield and the words "FranconiaBeerGuide.com" The back strap is cloth with a Velcro closure. We are now taking orders at shop@FranconiaBeerGuide.com or click on the PayPal button below. The price is $20 per cap, plus shipping (priority mail)