Adler-Bräu
Stettfeld
More information on Stettfeld can be found at www.meinestadt.de/Stettfeld (German)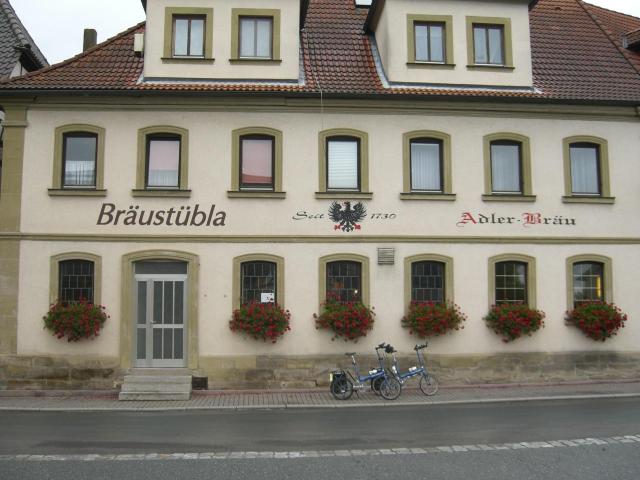 Hauptstrasse 19
Stettfeld
96188

0 95 22 / 3 69
Opening Times
Monday
10:00-23:00
Tuesday
Closed
Wednesday
10:00-23:00
Thursday
10:00-23:00
Friday
10:00-23:00
Saturday
10:00-23:00
Sunday
10:00-23:00
Back to the brewery search.
Other cities in the same district (Landkreis) as Stettfeld
---
Upload your own image of Adler-Bräu
---
Comments
Comment from Timothy Holian on 2005-02-16 22:57:25
Adler Bräu Stettfelder Pils: Full deep yellow/golden color, with a crisp hop nose; spicy hoppy flavor lingers pleasantly throughout, gently accented by enough malt to provide balance. Very clean brew - wow. Of the well over 100 different Franconian brews I've sampled so far, this is the best Pils to date; seek it out if at all possible.
---
Comment from Pedro on 2005-05-27 13:56:16
This beer gives me greater pleasure than a Colombian whore in Frankfurt. And she comes a lot quicker than the old man, who is getting a bit slow. A bit like Bernie (Denbow), then. You won't get any of these poncey beer reviews here, mate. None of your "tastes like passion fruit" and all that...
---
Comment from Sean McCambridge on 2005-07-09 04:54:12
Thanks, Pedro, that's much more helpful than anything else I've read. Really.
---
Comment from Robert D on 2005-08-22 11:44:58
Excellent beer! I have it delivered to my house every week. Not to heavy or harsh a good drink any time of the year.
---
Comment from Jan-Erik Svensson on 2007-11-10 06:18:56
Pleasant tap-room. The Pils is simple but satisfying. I found an grapefruit-like off-taset in both the Dunkel and the Zwickel.
---
Comment from Jürgen Wening on 2010-05-18 02:49:58
Absolutely clean beer; two sorts brewed at the moment: Lager and Pils. The Lager is a typical bronce coloured franconian Landbier. Taste: chocolate, almonds. Great! Pils: Not too hoppy, very tasty, dry, crisp. Very good as well. A superb brewery! The food was brilliant, too.
---