Brauerei Reichold
Hochstahl
Points of Interest: The village of Aufsess (which includes Hochstahl and Sachsendorf) is listed in the Guinness Book of World Records for most breweries per capita (4 breweries, 1500 people).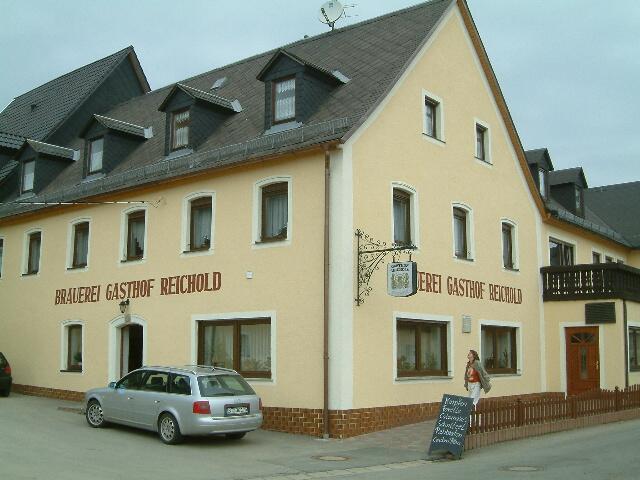 Small Brewery (less than 1000 hl/year)

0 92 04 / 2 71

h.reichold@t-online.de
Opening Times
Monday
Closed
Tuesday
Closed
Wednesday
08:00-24:00
Thursday
08:00-24:00
Friday
08:00-24:00
Saturday
08:00-24:00
Sunday
08:00-24:00
Back to the brewery search.
Other cities in the same district (Landkreis) as Hochstahl
---
Upload your own image of Brauerei Reichold
---
Comments
Comment from Jan-Erik Svensson on 2007-11-10 05:48:59
A rural brewery in a slepy hamlet. Solid beers with dark yellow colour. The Vollbier is soft with a dry aftertaste. The Bock is sweetish, fruity and warming and dries out as well. I liked the Kellerbier and Weizen less.
---
Comment from 1LT Paco on 2013-06-16 10:26:28
Visited this place on a sunny Sunday as part of a beer walk to four breweries in this area. Both beers on tap here were somewhat dark, both just fine for me. I've driven by this place many times, and never have seen it so packed. Despite that, service was actually pretty good given the number of people there and our food came quickly. This place was very much on the motorcycle circuit and at least half of the customers were arriving on motorcycles. This made it quite loud at times. But a nice, thriving, brewery on a summer day overall.
---