Schwanen-Bräu
Ebensfeld
More information on Ebensfeld can be found at www.ebensfeld.de (German)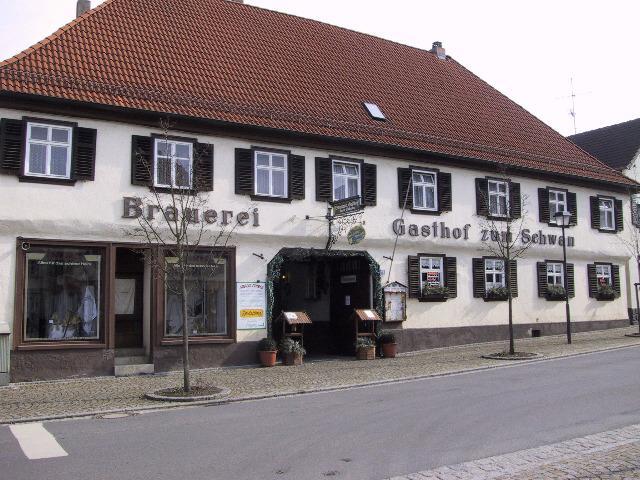 Oberer Kehlbachdamm 7
Ebensfeld
96250

0 95 73 / 8 85

service@gasthof-zum-schwan.de
Opening Times
Monday
Closed
Tuesday
15:00-23:00
Wednesday
15:00-23:00
Thursday
15:00-23:00
Friday
15:00-23:00
Saturday
15:00-23:00
Sunday
10:00-23:00
Back to the brewery search.
Other cities in the same district (Landkreis) as Ebensfeld
---
Upload your own image of Schwanen-Bräu
---
Comments
Comment from Timothy Holian on 2005-02-16 23:26:35
Schwanen Bräu Fränkisches Landbier: pale golden color, a bit light for the style. Low head retention. Pronounced malty nose back up by a rich malty body, from first taste well into the finish. Relatively little hoppiness to balance the strong malt component. Still, this brew has a nice smoothness and good grain bite - despite some flaws it is a very drinkable beer, especially for those who prefer malt sweetness to hop bitterness.
---
Comment from Jan Menken on 2006-10-09 06:15:04
The Gasthof Zum Schwan is the brewery tap. They serve very good food from a long list (from two different kitchens). There is a large non-smoking section! The beers: 1. The Pils is not great as a pils, but it makes a very nice Helles. Nice balance between malty sweetness and hoppy bitterness. 2. Adam Riese Urtrunk. A good Dunkel. 3. Schwanen Weisse. A very good Weizen, very fruity, lemony, maybe even vanilla. Makes one think of a very good Belgian Witbier! Both food and drink are very affordable and of great quality. Service is great. The brewery is behind the restaurant - you see the old one first, the new one is behind it. The brewery has its own webpage: 3w dot ebensfelderbrauhaus dot de
---
Comment from Jürgen Wening on 2009-06-04 01:47:48
Nice surprise - the friendly family run brewery tap serves excellent food in huge portions (also a big range for veggies like me!). The beer: We tried the dark beer (called Adam Riese Urtrunk) and the Pils. Both are very good. The dark beer has lots of malt, some balancing hops and is not sweet. The Pils has the amount of hops you would expect in a Pilsener beer and a pleasant cereal like aftertaste. Why haven't we visited this brewery before? Don't know, but it was a mistake. We'll come back soon.
---
Comment from barry on 2013-10-13 06:33:08
Stayed in Ebensfeld, Sept 2013. Sadly, Schwanen-Brau closed (see notice on website). However, keller open, about 15-20 minute walk, well signposted (Kellerstr.!). Very pleasant wooded spot, with nice views over countryside. Landbier tasty and quite distinctive. Tried bottle of Adam Ries but not so impressed - malty, dry beer.
---
Comment from Mark Andersen on 2014-09-04 06:31:00
I visited Ebensfeld in late July 2014 and was pleasantly surprised to see that the brewery tap has reopened and both the place and the beer were in very good shape. Good news!!
---