Brauerei Friedel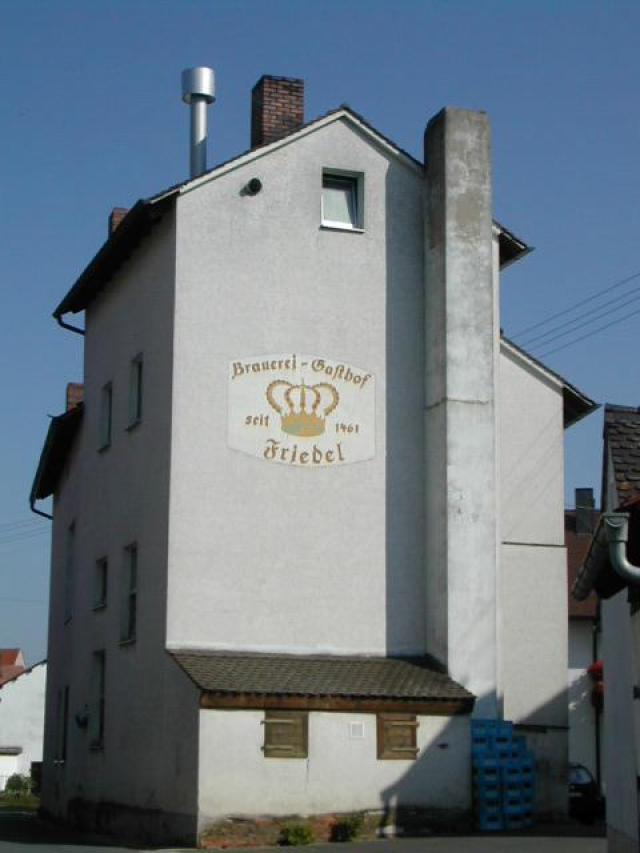 No longer brews

09543 3458

info@friedels-keller.de
The Friedel brewery moved to the Friedel's Keller on the Kreuzberg. This brewery is now used by Andreas Gänstaller.
Back to the brewery search.
---
Upload your own image of Brauerei Friedel
---
Comments
Comment from Jan-Erik Svensson on 2003-03-28 02:42:40
Yes - at it's best, this beer is like an archetype of Franconian brewing: full, rounded body with some caramel-like sweetness combined with a fresh, pronounced and aromatic hoppiness. You can only find this type of balance in the best English Ales and some of the more traditional Czech Pilseners.
---
Comment from Jürgen Wening on 2006-03-12 09:56:24
Dropped in today an got a warm welcome by a friendly elderly lady. Tried 4 examples of the "Zwickel". Indeed a very very spicy beer and very oldfashioned. Maybe not the worst thing to use it as a pizza topping! Great beer, great little brewery! I´ll definetely come back!!!
---
Comment from Nick B. on 2006-04-11 07:19:38
Haven't yet been in the Gaststätte, but the Keller am Kreuzberg has to be my favorite of the three Keller there. Was up there for the first time in months the other day (a nice warm (enough) Saturday) to innaugurate the new biking season. Dunkelzwickel was on, as well as Kräuterpils and the Weizen. The dunkles Zwickelbier is interesting indeed. We'd planned to only have a beer and bike back to Forchheim, but the Karpfen that the people next to us ordered caused us to think better of it--it's the second time I've had Pfefferkarpfen there, and it was again some of the very best I've had around here. Heres's a Foto of the Keller from August 2005: http://i80.photobucket.com/albums/j175/erlangernick/friedels_keller_kreuzberg.jpg and another of the Gaststätte: http://i80.photobucket.com/albums/j175/erlangernick/friedel_schnaid.jpg
---