Schwanenbräu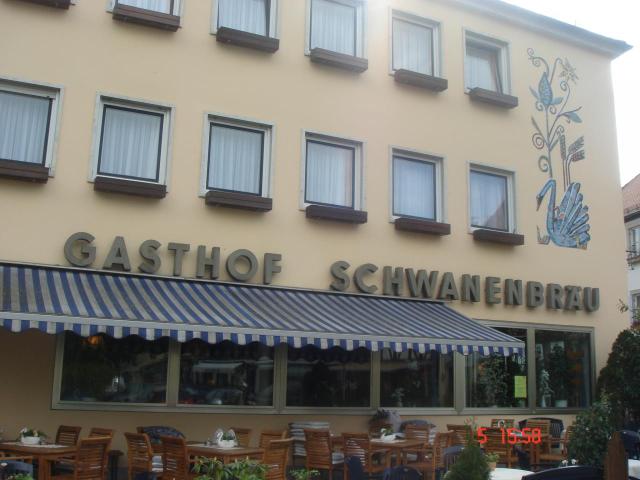 Marktplatz 2
Ebermannstadt
91320

0 91 94 76 71 90

info@schwanenbraeu.de
Opening Times
Monday
09:00-24:00
Tuesday
09:00-24:00
Wednesday
09:00-24:00
Thursday
09:00-24:00
Friday
09:00-24:00
Saturday
09:00-24:00
Sunday
09:00-24:00
Back to the brewery search.
---
Upload your own image of Schwanenbräu
---
Comments
Comment from Jan-Erik Svensson on 2003-04-07 07:04:24
When I tried these beers, they were bland and acidic. Perhaps they can be better.
---
Comment from m artello on 2006-12-26 12:39:34
I tried the beers here and thought them pleasant enough.but what really sticks in my mind is the food, ihad the" braumeister platter" it was the best meal i had on my last trip, and the service was very freindly.
---
Comment from mike004 on 2009-09-21 07:30:11
Very average beers. A tourist trap IMHO.
---
Comment from DougN on 2010-09-23 08:59:18
I have stopped here often while in the Fraenkischen Schweiz. While it is oriented towards (German) tourists, I don't find it to be a tourist trip. The beers are of consistently high quality. During a recent visit I was accompanied by an American brewer who spoke with the Schwanenbraeu Braumeister about his work. They are diligent about treating the water, which is not the case with all brewers in the region.
---
Comment from Jürgen Wening on 2012-08-31 01:40:21
At Schwanenbräu, just opposite to Brauerei Herbst, you get Pils and dark Lager. The Pils really excited me, as it is not only hoppy, but very spicy, nearly hot. It's number three on my personal ranking list of franconian Pils now. The dark lager is malty and soft, very well made. Good beers. Good to have visited both places!
---
Comment from barry on 2013-10-13 06:40:46
Largely agree with Juergen's comments but would rate the beer quite so highly but certainly very drinkable. Schwanenbräu is more a hotel than a drinking establishment but quite friendly. Worth popping into if you're heading for Heiligenstadt, otherwise probably not.
---