Lindenbräu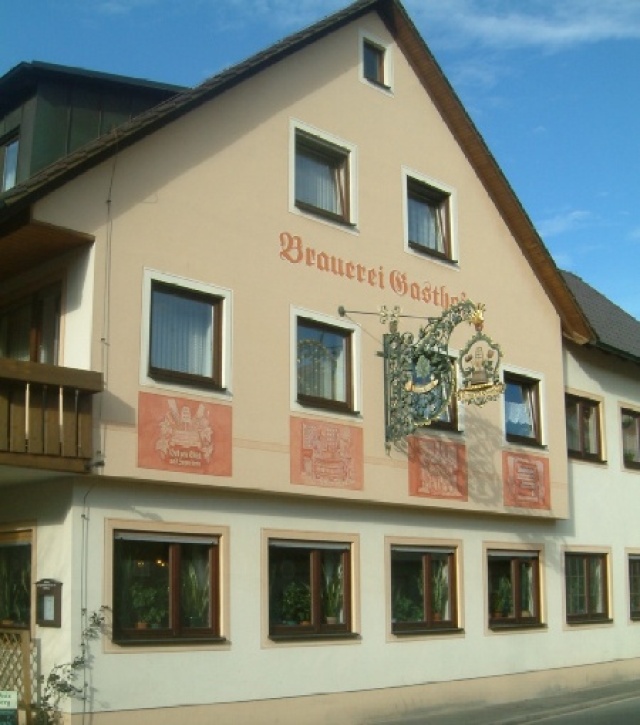 Am Bach 3
Gräfenberg
91322

0 91 92 / 3 48

lindenbraeu@t-online.de
Opening Times
Monday
09:00-22:00
Tuesday
09:00-22:00
Wednesday
09:00-22:00
Thursday
09:00-22:00
Friday
Closed
Saturday
09:00-22:00
Sunday
09:00-22:00
Back to the brewery search.
---
Upload your own image of Lindenbräu
---
Comments
Comment from Jos Brouwer on 2003-02-07 12:35:47
This brewery has virtually everything: an own malting (unique: one of the few remaining floor maltings), a brewery, a distillery, a hotel, a museum... and of course the brewery tap, with its beer and its variety of local and regional specialties. Don't miss the Nürnberger Bratwurst. The Tellersülze (jellied pork) is also one of the unsurpassed specialities. The fame of the brewery dates back to the late George Brehmer, but his son-in-law and his daughters seem to have picked up his enthousiasm and spirit, so the attraction is still there.
---
Comment from Jan-Erik Svensson on 2003-03-31 08:45:03
A very solid Vollbier with power and balance in this virtual micro-economic complex.
---
Comment from Dr. Heinzel on 2005-05-31 09:39:09
---
Comment from Dr. Heinzel on 2005-05-31 09:40:06
Wonderful Maibock ! This beer of the type "Heller Bock" is extremely tasty: big hoppy, aromatic nose; full malty taste and a dry hoppy finish; well balanced, full bodied and nearly not sweet at all. Worth a detour....
---
Comment from mike004 on 2009-09-21 07:49:35
An awesome pint, with almost "ale-like" qualities. They also do Bed & Breakfast. So, its a good base for visitors to Frankische Schweize.
---
Comment from DonS on 2011-02-02 20:26:42
Great stop on the 5-Seidla-Steig, really worth a visit. Web site is at lindenbraeu.de
---