Brauerei Gasthof Rittmayer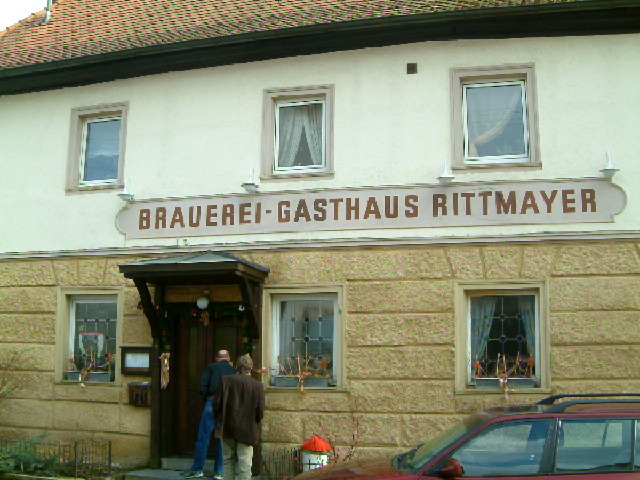 Trailsdorfer Strasse 4
Hallerndorf
91352

0 95 45 / 5 02 92
Brewery is about 500m NE along Trailsdorfer Strasse from the Hallerndorf Post bus stop.
Opening Times
Monday
Closed
Tuesday
17:00-23:00
Wednesday
17:00-23:00
Thursday
17:00-23:00
Friday
17:00-23:00
Saturday
17:00-23:00
Sunday
10:00-23:00
Back to the brewery search.
---
Upload your own image of Brauerei Gasthof Rittmayer
---
Comments
Comment from Monk Dauenhauer on 2003-01-19 19:54:57
A trip to the breweries in the Bamberg area are not complete untill you taste the Hefeweisen at Rittmayer's. Have had the pleasure to visit this brewery 4 times in the past 10 years and have not been disappointed. There is also a huge beergarden on the outskirts of town that is ourstanding.
---
Comment from Jan-Erik Svensson on 2003-03-28 02:36:08
Rittmayer's Kellerbier, as tasted on the Kreuzbergfest, is as good as a lager can be, with a very soft, rounded body and a very intense and aromatic hoppiness.
---
Comment from Jürgen Wening on 2006-02-19 11:29:22
Compared to other beers of this region, I found the "Kellerbier" and "Landbier" quite usual. Too round and balanced with a lack of depth and character. Compared to a Hetzi or an Unterzaunsbacher Meister they´re bleach, but still nice to drink. They´re probably better when drunk at the Kreuzbergkeller?! The food was okay.
---
Comment from DougN on 2010-09-23 08:50:35
Sampled their beers in both Hallerndorf and on the Kreuzberg and found the latter as the better venue, since they had the Rauchbier on draft, which has a smokiness that doesn't overwhelm the palate as with Schlenkerla. Their Keller is my favorite on the Kreuzberg, not as developed as Friedel but with more choice than Lieberth.
---