Jan-Erik Svensson's Top Ten Picks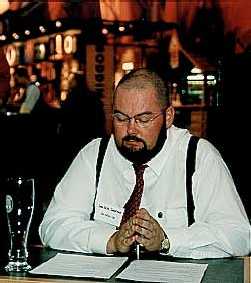 Jan-Erik Svensson, of Stockholm, Sweden is active in the Svenska Ölfrämjandet the Swedish Beer Consumers Organization and was the editor of their magazine, Maltesen in the early 1990's. He has been a main judge at the Swedish Homebrewers Festival since 1989 and at the Stockholm Beer & Whisky Festival since 1994.Jan-Erik has taught beer at the universities of Grythyttan and Umeå. He is the author of the book Ölkunskap (Beer Knowledge) and has written hundreds of articles on beer for Swedish newspapers and magazines. He has arranged commercial beer trips to many of the important beer regions of Europe, including Franconia.


Spezial, Bamberg. Of Bamberg's nine operating breweries, I choose Spezial because of the very balanced quality of its Rauchbier and the pleasant, traditional atmosphere in the Brauereigaststätte. There are more historic interiours in Bamberg (Mahrs-Bräu), but – according to my opinion – no one makes better beer than Spezial.
Sippel, Baunach. A very soft and wonderfully hoppy, brownish Vollbier. This is how I expect a classic Franconian Vollbier to taste. Vienna malt is the base, combined with a little Sauermalz and Cara-Münch. After a double decoction mashing, the beer is hopped three times with Perle and fermented for a week at 8ºC. Then it's lagered for 4-5 weeks. Details can vary, but this is the basic formula for most traditional Franconian beers.
Schwanenbräu, Ebing . I think this powerful and perfectly balanced Dunkles Vollbier has to be very close to the original dark lagers brewed in Munich some 150 years ago. The house is unter Denkmalsschutz and the interior has more atmosphere than most in Franconia.
Krug, Geisfeld. Very friendly Brauereigaststätte, very good home-made Brotzeit snacks and a superbly dry, hoppy, pale brown Lagerbier. The combination of soft malt and almost sharp, dry hops is typical of Franconian Switzerland with its very hard water.
Rittmayer, Hallerndorf. This golden-coloured Kellerbier has a soft, rounded, malty body and a very aromatic hoppiness, in freshness reminding a little of American Cascade hops. I have never been to the brewery's own Gaststätte, but I tasted the beer at Hallerndorfer Kreuzberg, which appears to be the ideal setting for this beer.
Zum goldenen Adler, Höfen. The Ungespundetes Hausbrauerbier of Adam Endres at Zum goldenen Adler in Höfen is my number one favourite in Franconia. The amber-coloured beer is huge in character and quality, with very full, honey-like body and a really powerful, aromatic hoppiness.
Klosterbräu, Kreuzberg / Rhön. I don't know if it's the light, dryish, amber-coloured Vollbier or the sacred atmosphere on this hill, but this is one of my absolute favourites. Don't miss the walk to the top. The beer is of the kind that can be downed in large quantities.
Mager, Pottenstein. Some connoisseurs have a strong opinion that the Coca-cola coloured beers of Pottenstein used to be better. But since I never tasted them in the good old days, I have no prejudice about how it should taste. And the beers are really very good. Hufeisen is a little drier, but I especially like the Dunkles Vollbier from Mager, a well balanced combination of full body, roasted malt and a sharp bitterness.
Friedel , Schnaid. The powerful and well-balanced, pale brown Fränkisch Urtyp Lagerbier is at it's best under the trees at the Keller of the Hallerndorfer Kreuzberg. Toffee-like malt dries out in a beautifully aromatic hoppiness. When good, the beer is a quintessence of the Franconian art of brewing.
Hübner, Wattendorf. In this village, Dremel perhaps has the more cosy Brauereigaststätte, but Hübner just opposite the main street has astonishing noble beers. Clean, big malt and very aromatic hops coming up. I liked the Dunkles Vollbier slightly better than the Helles Zwickelbier (unfiltered), but they share the unusual quality of this brewery.
---