Brauerei Krug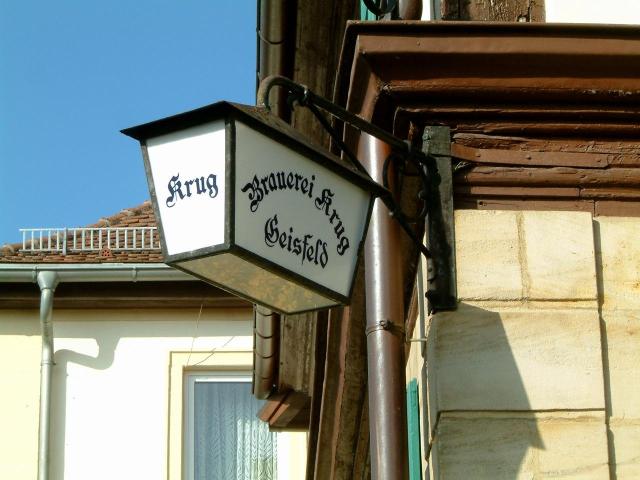 Alte Dorfstrasse 11
Geisfeld
96129
Stopped brewing in 2018
Small Brewery (less than 1000 hl/year)

0 95 05 4 84

stefan@brauerei-krug.de
Opening Times
Monday
16:00+
Tuesday
Closed
Wednesday
16:00+
Thursday
16:00+
Friday
16:00+
Saturday
14:00+
Sunday
10:15-12:00/16:00+
Back to the brewery search.
---
More images of Brauerei Krug
---
Upload your own image of Brauerei Krug
---
Comments
Comment from Jan-Erik Svensson on 2003-03-28 01:53:36
Very pleasant dryish beer served in a most friendly pub. Among the best Franconian Brotzeit-snacks as well.
---
Comment from Dr. Heinzel on 2003-12-02 15:58:56
Dark brown beer; low carbonation; full bodied, but not too malty or sweet. Surprisingly bitter - but not unpleasant - for a beer of this colour. Fine !
---
Comment from Larry Harmacinski on 2004-05-02 15:47:07
Krug is the best of the best when it comes to Bavarian beer. Stephan Krug and his small team make all the bier and swartzbrot (dark bread) which is heavenly when ziebelekase is spread on the bread and washed down with their fabulous lager. Try the sampler plate. Probst, Larry
---
Comment from pedro on 2005-05-27 14:24:40
Once you manage the vicious cycle ride from Bamberg, this is a great reward. The beer is one of the best Kellerbiers in the Bamberg area. Very refreshing, hoppy beer after a punishing, (mostly)all-uphill cycle ride. Unfortunately, our trip was sickeningly interrupted by the arrival of one "Bernard Denbow" on a (his words) "Tortoise Bike". His desperate, slow pace and diabolical local "humour" disturbed not only our little party, but also the locals and the nearby wildlife. This man should be hounded from the entire European continent!!!!
---
Comment from guppis on 2006-06-13 02:00:58
One of the best swartzbiers I have had.
---
Comment from Andrew Clarke on 2006-11-19 14:34:52
Whilst it is a lovely old brewery/pub the beer(Lager)was not among the best I sampled over the weekend. A very grassy taste with an unpleasant finish. Perhaps just a bad batch. Mind you at €1.60 a half litre it is hard to be too critical!
---
Comment from Jürgen Wening on 2006-12-14 13:57:05
That dark amber coloured and very satisfying old fashioned Vollbier is really worth sampling. Draft only. Very charming pub also. Lucky people in Geisfeld, with two absolutely great little breweries!!!
---
Comment from Keller Brothers go to Geisfeld on 2008-06-01 05:30:48
Meine lieblings bier!!! By far one of my favorite biers. Always has a hoppy ballance, good schaum. Ask Stefan about his special bier. He normally kuches up a special once or twice a year. Schwatzschaff in March or April. Great brotzeite.. Oh, hey the brot is from the bakerei litzendorf but your right, very good. We all miss our bedinung Julia. She was the quickest, prettiest, perkyest little thing around. To bad she took a job at Hooters in Schweiz. Oh well, still have good bier! Tell Stefan Robert the "Ami" sagt Gruss. Tschuss-
---
Comment from Mark Andersen on 2009-09-24 12:36:13
Visited in July 2009 on a rainy afternoon after stopping by Griess first. Had a few beers and some food and both were very good. The kind of good, down to earth quality and atmosphere that I've come to expect from a Franconian brewpub.
---
Comment from Barry on 2017-06-19 11:58:41
Concur with those who prefer Krug to Brides, much nicer atmosphere and I prefer the beer, a really decent Kellerbeer. You pays your money and makes your choice. Go to both and make your own mind up.
---
Comment from Barry on 2017-06-19 12:00:53
Sorry, that should be prefer Krug to Griess! Damned predictive text - mind you, should have proof read!
---