Brauerei Spezial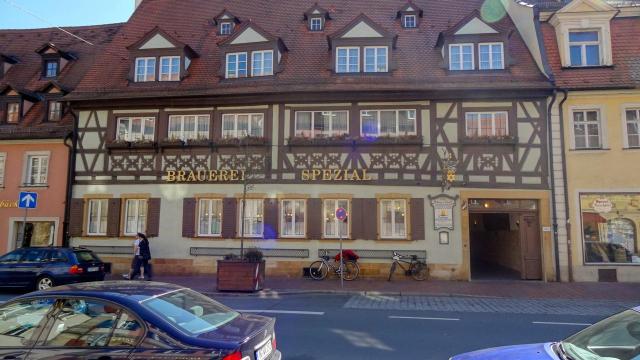 Obere Königstrasse 10
Bamberg
96052

09 51 / 2 43 04

spezial@bierstadt.de
Closes 2pm on Saturday.
Opening Times
Monday
09:00-23:00
Tuesday
09:00-23:00
Wednesday
09:00-23:00
Thursday
09:00-23:00
Friday
09:00-23:00
Saturday
09:00-14:00
Sunday
09:00-23:00
Back to the brewery search.
---
Upload your own image of Brauerei Spezial
---
Comments
Comment from Jos Brouwer on 2003-01-31 14:51:59
Where Schlenkerla is the best known smoke beer of Bamberg, those who know Bamberg better prefer the "Spezi" as their favourite Rauchbeer. So do I. Don't miss the "U" - Ungespundetes - usually available on draught in January.
---
Comment from Mark Kissel on 2003-02-06 08:49:25
The second stop of my short time in Bamberg with Frank Wetzel and while here I had this Brauerei's version of rauchbier. Compared to the Schlenkerla this one is mild flavored and in my opinion, not as full flavored. I gave it a 3 however, in a tight spot, I could sit and drink this one for quite sometime.
---
Comment from Jan-Erik Svensson on 2003-03-28 06:43:36
This is definitly the number one beer drinking haunt in Bamberg. The beer couldn't be better, and the tap room is great.
---
Comment from Linda Chaponot on 2003-04-03 07:01:32
Just got back from a week's stay there. Great place to stay for the price and breakfast. The smoke beer is so smooth that it was hard to stop drinking. Since I prefer a mellower flavor, I liked that beer more than Schenkerla. The brewery was always packed with locals, but they do accept reservations for a table.
---
Comment from Guy H. on 2003-04-30 15:18:38
Nice pub, good (and very drinkable) beer that lacks the smoky depth and complexity of Schlenkerla. I disagree with the statement -- "those who know Bamberg better prefer the Spezi as their favourite Rauchbeer" -- it's a nice beer but Schlenkerla is one of the world's greats.
---
Comment from Tom Perera on 2003-04-30 17:35:16
Bamberg's best "U".
---
Comment from Richard Sanders on 2003-07-23 18:00:00
Good locals pub with outstanding beer and good local food.
---
Comment from joe mclaughlin on 2004-03-04 16:39:00
this was my home for 3 days in feb. 2004 and i could not have picked a more comfortable accomadtion. the rauchbier is smoother than than the shlenkerla ,which i liked, and the food and service were superb; never having to wait more than a moment for a refill or a meal.
---
Comment from Dr. Heinzel on 2004-03-05 03:38:09
The brewery-tap is great, of course. But try to enjoy the exellent Rauchbier, which is not so "cruel" in comparison to the Schlenkerla, on a warm summer evening at the Spezial-Keller (Oberer Stephansberg, not far from the Heller(Schlenkerla)-brewery). Beautiful view over Bamberg, a better place is hard to find....!
---
Comment from Nick on 2004-07-27 09:36:18
Although I only first went to Bamberg in August 2003 I have since returned on two further occasions, with a fourth trip to follow this year. I never fail to be impressed by all the beers brewed in the region, not to mention the beauty of the city and its surroundings as well as the brilliantly friendly Franconian people, with whom one can chat for hours "über Gott und die Welt". However, for me, one beer stands out even in this mecca of brewing, and that is undoubtedly Spezial. Subtler and fuller-bodied than its more famous cousin, Spezial is probably the best beer I have ever tasted, with a long malty finish that is simply divine. Despite its fullness one can drink it like water, so beautiful is this Lebenselixier! The surroundings may not be quite as stunning as Schlenkerla, the service not as outstanding as Klosterbräu, but the beer just pips its already fantastic competitors to the post. It is out of this world!
---
Comment from Fraser McDonald on 2004-08-23 05:32:56
Always superb but in the summer you can't beat drinking at the keller in the hills.
---
Comment from Jussi Rokka on 2005-02-02 08:51:35
I'm one of those who like Spezial Rauch a little bit more than the other Great. Sometimes it's an easy judgement to make, sometimes a close one, even though the beers don't change. The place is cosy, service and food very good and the hotel rooms just right.
---
Comment from scott rankin on 2005-03-10 04:22:41
Wow. The beer is awesome. Definitely at the top of my list. Goes down very smooth and is more mild then Schlenkerla. It is all personal preference, but I prefer Spezial. We have also been lucky to have great service with a very helpful waitress we usually see. One of the jewels of Bamberg.
---
Comment from Zupfer on 2006-03-06 21:07:28
The first comment is accurate for many, many people I know in Bamberg and surroundings. This is another place that just does not change over the decades. Here as in the othe breweries you will here no music. It is nice to hear and have group conversations.
---
Comment from Allan Thomas on 2006-05-22 02:51:31
I have stopped at Spezial on several occasions. Extremely good value! I used to stop at Fassla, but the breakfast was not always reliable (seemed to be a shortage of boiled eggs!)The Spezial rauchbier is my favourite beer in the world. It is a subtler flavour than Schlenkerla (although I'm very fond of that). The weiss bier is also eminently drinkable. Every year I return to Spezial and savour that moment when the first 1/2 litre slips down........smooth, subtle and exactly the same flavour as the last time.....it never varies. I'm also fairly near to heaven when I visit the Spezial Keller.Well I could go on but I have to pack my case as I am returning to Spezial in the next day or two.
---
Comment from Martin T. on 2006-06-17 08:23:25
Classic Bamberg establishment, brewing all rauchbiers, save for the Ungespundetes Lagerbier. The Rauchbier Lager and the Ungespundetes are the only 2 on tap, the rest being available in bottles. The food was your standard Franconian fare, and similarly priced to its peers. Service is fast and friendly, particularly efficient even though the crowds are demanding when full. The hotel rooms upstairs are also recommended, clean, nice, comfortable. One of the top beer places in this lager paradise.

Ungespundet (tap review):
-A sticky foam recedes to a ring on the cloudy golden brightness.
-Love handles galore in the mouthfeel, tons of wet hay to bite into, aided by the natural carbonation of course.
-Citrusy cereal are a bit muddled mind you, the mouthfeel is so rich, they must be in awe.
-Finishes pretty softly, with herbal hop flavors and bitterness, although slightly higher levels would have been lovely.
-Not bright enough to stand out amongst the best (in my tastes), but this landbier could not be better balanced and rich. Another high quality product from Spezial.

Rauchbier Lager (bottled and tap review):
A subtle smoky mist rises and lingers atop a deeply beautiful rural simplicity...Oranges lying on the ground with a few grassy vegetables from the garden...Caramel winks meditatively as the chirp of a single bird breaks a profound silence...

The wooden cask version at the brewery has a better mouthfeel, fed by natural carbonation, but satisfies as much as the bottle. A well-crafted rauchlager, no doubt.

Rauchbier Märzen (bottled review):
-A creamy head tops the dark red elegance.
-A memorable aroma of earthy, smoky maltiness is linked to innumerable candied berries.
-A succulent body remains drinkable, as is never as drying as Schlenkerla's own Märzen.
-Flavors are an exact replica of what the aroma had suggested, if a little more tame.
-Earthy, wooden hop bitterness tops off the elaborate labyrinth.
-A perfectly-executed, deluxe rauchbier which simply deserves as much notoriety as Schlenkerla's.

Weissbier (bottled review):
-Generous foam covers the cloudy, dark orange.
-Banana esters erupt, just in front of an earthy, wooden smokiness, which is lightly perceptible in the aroma.
-The smooth yet active carbonation helps towards a creamy mouthfeel.
-The dry fruitiness slowly fades into a doughy yeastiness.
-Tamarind consults the nose.
-Weizen lovers will like it, staunch rauchbier lovers might be disappointed by its subtleties, some might be weirded out by the rauch malt/weizen yeast combo, but the open-minded will find a well-crafted product with a nicely-developed personality.
---
Comment from Andrew Clarke on 2006-10-22 14:45:39
Anoher Bamberg Classic. Rauchbier is superb,not as overpowering as Schlenkerla but easier to put away as a result. A must on any trip to Bamberg.
---
Comment from Andrew Clarke on 2006-11-19 14:16:45
Tried the ungespundetes on our November trip. Superb. Excellent food too.
---