Schwanen-Bräu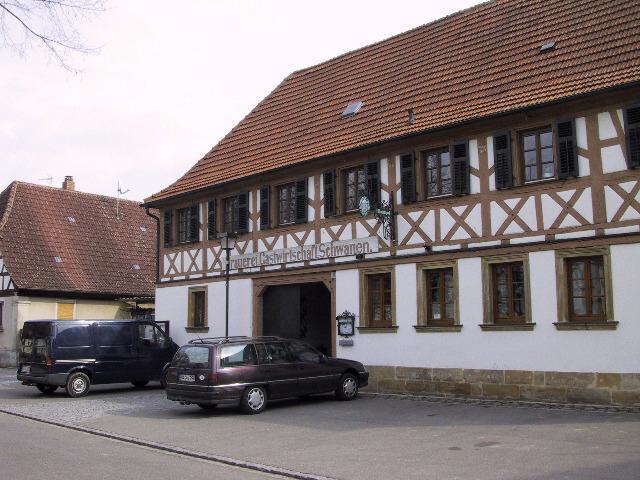 0 95 47 / 4 81
Opening Times
Monday
09:00+
Tuesday
09:00+
Wednesday
09:00+
Thursday
Closed
Friday
09:00+
Saturday
09:00+
Sunday
09:00+
Back to the brewery search.
---
More images of Schwanen-Bräu
---
Upload your own image of Schwanen-Bräu
---
Comments
Comment from Jan-Erik Svensson on 2003-03-26 04:23:01
This is the archetypical Munich-style dark lager, as it could have tasted some 150 years ago. A wonderful beer served in an "Urig" environment.
---
Comment from Dr. Heinzel on 2003-12-02 16:05:05
Dark brown, full bodied malty brew with a dry finish, low carbonation, very smooth. The old fashioned brewery-inn is worth a jouney
---
Comment from Jürgen Wening on 2007-03-08 03:36:25
Friendly staff and good food. The beer is very easily drinkable and (maybe too) well balanced. Makes a nice starter if you intend to jump over to some stronger stuff, like e.g. a Friedel Zwickel beer.
---
Comment from Jan-Erik Svensson on 2007-05-04 02:55:15
On a recent visit, the beer was a little lighter brown in colour with a more marked hop character. Also note that the beer is not served directly from the cask ohne Kohlensäureanstich since two years or so. Perhaps a higher CO2-content enhances its freshness?
---
Comment from Keller Brothers on 2008-06-01 04:46:11
Keller Brothers go to Ebing- Always a delightful stop along the bike path on the way to Unterbrunn. Classic dark bier with a full flavor. Good chow too. Bring your own fass to be filled.
---
Comment from barry on 2013-10-12 13:29:08
This could easily become one of my favourite Stube. Visited one afternoon with Juergen and Nick (and Tabor!). Really characterful both inside and outside, with a superb dunkles beer - as Juergen says, very easily drunk... and drunk... and...
---
Comment from Mark Andersen on 2015-05-25 09:36:56
Visited in May of 2013 and then again in early August of 2014. It's a really nice old place and I almost feel like I'm drinking in a barn when out in the large hallway area where there are plenty of picnic tables to sit at. It's very easy to get to from Bamberg. It's a short train ride to Ebing where the small, rural, abandoned train station almost feels like a scene from the 30's. Flat and direct walk about 1 to 1.5 kilometers or so into the village of Ebing from the station and the brewery is not hard to find once in the village.

Beer is a dunkel and very easy to drink. I'd say it leans a bit to the malty side. Not one of my top 10 favorite Franconian beers but very solid and enjoyable.

---
Comment from Barry on 2017-06-16 06:41:08
Several visits during my recent stay in Ebensfeld. Remains one of my favourite Dunkels, definitely in my top 10 Franconian Dunkels, if not top 3. Spent an interesting afternoon, accidentally on Stammtisch, which gradually filled up around me! No one asked me to move and I got engrossed with a game of Scharfkopf, which is incomprehensible!
---