Brauerei und Gasthof Drei Kronen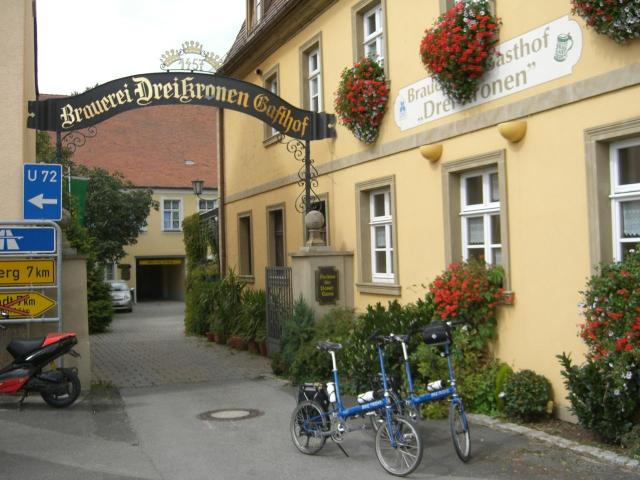 Hauptstrasse 19
Memmelsdorf
96117
Small Brewery (less than 1000 hl/year)

09 51 / 9 44 33 - 0
Closed Sunday at 3pm until Monday at 5pm.
Opening Times
Monday
17:00-23:00
Tuesday
09:00-23:00
Wednesday
09:00-23:00
Thursday
09:00-23:00
Friday
09:00-23:00
Saturday
09:00-23:00
Sunday
09:00-15:00
Back to the brewery search.
---
More images of Brauerei und Gasthof Drei Kronen
---
Upload your own image of Brauerei und Gasthof Drei Kronen
---
Comments
Comment from Hans-Ludwig Straub on 2002-12-07 01:33:38
Hi there, I was really surprised to find our Foto and our adress on your web site. Hope to can welcome many beerlovers at our Brewery Restaurant Hans-Ludwig Straub Brewer and owner
---
Comment from Jan-Erik Svensson on 2003-03-31 08:56:20
These beers have an interesting apple-like taste, perhaps deriving from contact with oxygen at any stage of production.
---
Comment from Jim & Wendy Stebbins on 2004-10-17 11:17:49
A very nice restaurant with a large variety menu of excellent German food & bier.It is nicely decorated & very clean.Located in the heart of Memmelsdorf.
---
Comment from ToddA on 2005-02-13 17:39:43
I thought the Stoffla was really good. No off flavors and pretty decent smoked character. I was really pleased with the Gasthof as well. Highly recommend staying here.
---
Comment from Timothy Holian on 2005-02-16 21:32:35
Drei Kronen Stöffla Rauchbier lives up to its high reputation: a rich malty body is enhanced by the smokiness which lingers well into the aftertaste. The Lager Vollbier was a bit of a disappointment: very little nose and slightly out of balance toward the malty side, albeit with a nice hint of caramel flavor. The Pilsener has a clear hop nose and medium pale color, with a pronounced hop character from front to back and a lingering hoppy aftertaste. Unfortunately, service was a bit abrupt compared with other establishments, despite the fact that there were few clients at the moment.
---
Comment from Heide Vaught on 2005-03-06 23:27:04
Ich wohnte im Memmelsdorf bis 1987 als Kind im Winter gingen wir oft zu dehn Drei Kronen und haben uns Pomes bestellt die Wirtin hat uns immer erlaubt im Hauflur zu sitzen damit wir Warm werden hat mit uns geredet und war immer Freundlich zu uns allen... Das Bier muss gut sein weil die Stube immer voll war ....
---
Comment from Marcus on 2006-02-11 02:44:15
Their is actually very good and the Gasthof is great as well. The best beer they have is 6-Korn-Bier, however it's not brewed the hole year round...
---
Comment from Marcus on 2006-02-11 02:44:15
Their beer is actually very good and the Gasthof is great as well. The best beer they have is 6-Korn-Bier, however it's not brewed the hole year round...
---
Comment from guppis on 2006-06-13 02:02:24
Herr Straub is always a pleasure. Very good selections of bier along with seasonal biers. Stay for the night and try them all.
---
Comment from Martin T. on 2006-06-17 10:12:28
A beautifully-kept brewery/hotel/restaurant with a slightly upscale feel to it (for a Franconian brewery anyway). The food we had was above average for the region, and the service was very professional. The main reason you'll visit I imagine is for the beer, so you'd probably like to know they had 3 beers on when we visited, all vom Fäss. The Stöffla, a mildly-smoked lager was very delicate and fit well with the meal, but disappointed in its lack of assertiveness (compared to Spezial's or Schlenkerla's smoked beauties for example). The Hefe Pils, an unfiltered pils, was very shy yet nourishing, lacking decent levels of hoppiness for the style. In light of this, we skipped the Lager, and went a few buildings down to Brauerei Höhn, just to change venues. Such is the paradise that is Franconia. All in all, a very nice place for a meal and a few beers, but don't expect any gambrinal masterpieces here.

Stöffla (tap review):
-Pancetta and feeble smoke mingles with herbal and vegetal tones.
-Smoke is more prominent in the flavor than the aroma.
-The rich mouthfeel is driven by natural carbonation and well-extracted maltiness.
-The veil of head laces atop the reddish copper.
-Dirty apricots, dusted earth.
-Finishes a little too subtly, but is crafted with finesse.

Hefe Pils (tap review):
-Whipped cream foam atop a lightly hazed pale golden.
-Grassy hops barely appear in the dry, bland aroma.
-Lychee esters are obvious in the sweet fruitiness, accompanied by honeymelon and a citrusy touch.
-This was served pretty warm, intriguing.
-Herbal and grassy hops show up discreetly in the flavor profile.
-This is rather clean for an unfiltered pils, not too yeasty, and, well, not that pilsner-like either.
-The lean body is a little too easy to drink, while not challenging or hooking the tastebuds.
---
Comment from Andrew Clarke on 2006-10-22 15:11:27
Was very impressed with the Stoffla when we visited here in August 04. Also possible to order a small keg of it for shipment overseas. Around the corner there is a lovely beer garden serving the excellent Hummelbier from nearby Merkendorf direct from the wood.
---
Comment from Jürgen Wening on 2009-09-07 13:03:49
Tried all beers and was absolutely disappointed by their lifelessness. Well, they're surely easy to drink for everybody, but what about the character?
---
Comment from Russ R. on 2009-12-08 15:52:49
Very much a restaurant and not a pub. The tablecloths on all the tables made me feel uncomfortable and pressured into buying dinner. The Rauchbier (Stoeffla) was equally disappointing. Fortunately, there are buses to Bamberg every half-hour until 20:00 so it's easy to escape!
---
Comment from Bill Davis on 2011-04-14 09:41:17
A complete Upper Franconian experience! A family owned and operated brewery, restaurant and hotel within a short distance of rich old-world history and beautiful landscapes. Family Straub's attention to detail and pride in craftsmanship in every aspect of the business is exceptional. In addition to the regularly available Pils, Lager, and the award-wining little smokey Stoeffla, Herr Straub releases a seasonal Bock (Fall), Hefeweizen (Summer), and one of three strong Winter beers (Caspar, Balthasar, or Melchior) every Epiphany (aka three kings day...hence the three crowns or Drei Kronen on the sign out front).
---