Brauerei Fässla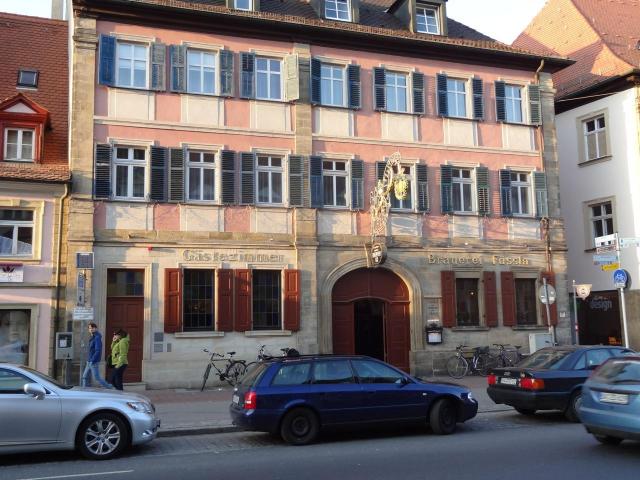 Obere Königstrasse 19/21
Bamberg
96052

09 51 / 2 65 16 und 2 29 98
Closes at 1pm on Sunday.
Opening Times
Monday
08:30-23:00
Tuesday
08:30-23:00
Wednesday
08:30-23:00
Thursday
08:30-23:00
Friday
08:30-23:00
Saturday
08:30-23:00
Sunday
08:30-13:00
Back to the brewery search.
---
Upload your own image of Brauerei Fässla
---
Comments
Comment from Julie Moran on 2003-01-01 17:35:04
My two visits were in the late 1980s, the beginning of the American Micro movement. The exchange rate was favorable, the prices were great, the beer was fluffy and beautiful. The property was wonderful and the brewery was cantankerous and pretty (the brewer gratefully alowed us a look around). The rooms were clean and charming, the food was great, and everyione I met there was so friendly. It is the perfect stay in Bamberg, no question. Very fond memories ...
---
Comment from Andy Thomas on 2003-01-19 18:27:53
I went to Fassla once, it was in the early 1990's. Although the brewer that showed me around was very nice, the beer had a metallic taste I attributed to hot side aeration. I am a brewer and a detail guy, it was a bit too much for me. I moved on to the rauchbeer after that night.
---
Comment from Jos Brouwer on 2003-01-31 14:49:43
Fäßla is my "local" whenever I am in Bamberg (4-5 times per year only - sadly). Need I say more?
---
Comment from Mark Kissel on 2003-02-06 08:35:42
Just returned from Bamberg and visited Brauerei Fassla with Frank Wetzel. Had limited time and drank a Pils (or two). This after having a rauchbier from Schlenkerla Brauerei. Mild taste with full flavor. I rated the beers individually and gave this one a 4! Good bier for a warm/hot day during the summer months; seems like you would be able to drink several of these with no problem.
---
Comment from Jan-Erik Svensson on 2003-04-16 04:25:55
A little sticky but nicely aromatic beers in a semi-traditional setting (the beer is served through fake barrels). Sometimes, the Pils is very tasty and pleasant. Hearty atmosphere of a traditional family brewery.
---
Comment from Tom Perera on 2003-04-30 17:32:56
Bamberg's best Lager and Bambergator, the best Bockbeer. This place has that magic that wipes away the world's problems and stills existance, leaving you at rest to meditate and ENJOY great beer.
---
Comment from Guy K on 2003-06-03 12:34:00
Very good beer and a nice room ! I go there every day when i`m in Bamberg
---
Comment from Richard Sanders on 2003-07-23 18:01:55
First visited this Pub/Brewery in 1987 when the accommodation was basic. Now vastly improved with the Pils my favourite beer
---
Comment from scott rankin on 2003-11-13 03:49:42
Great Bock Bier, although others in my party thought it was a little too strong. The hefeweizen is also outstanding. There is something to be said about gnomes who drink beer.
---
Comment from Henry Lindenau on 2003-12-02 16:10:31
My favorite spot in Bamberg!
---
Comment from joe mclaughlin on 2004-03-04 16:33:30
twas nice.........had only a few lagers to check the place out. the brew was a nice change of pace frome the smoked malt stuff but the atomosphere was a bit to smokey and cramped.
---
Comment from Dave Brown on 2004-09-18 03:22:46
Just back from another enjoyable stay at the Fässla. The rooms are good value, and as I was driving the car park at the back was very useful. The lagerbier was also as good as I (vaguely!) remembered.
---
Comment from Steve Leonard on 2005-07-29 21:57:53
Visited late May. Two nights in very clean, cheap, great single rooms. We loved it. Beer was as good as others. The mangnt was so polite and trusting. New rooms ,very large on second floor will be very nice to stay in. Beer is good, but so much more beauty to this city.
---
Comment from mike004 on 2005-12-14 01:22:07
My favorite Bamberg brewery. A high volume pub, popular with locals. Not too many tourists. Lagerbier and pils are top notch. Mike
---
Comment from Zupfer on 2006-03-06 20:26:54
I often drink Faessla Pils. If you are a fan of the beer dwarfs painted on the walls near the front door, you can find a redux in Taps Brewery and Fish House in Brea, California. Faessla is traditional Bamberg and is directly across the street from Brauerei Spezial. If you walk south on the Koenigstrasse, you will find Maisel Weissbierhaus on the west side of the street. Even further south another half mile (cut through an alley next to Maisel and continue south another half mile or less) and you will find Keesmann and Mahr.
---
Comment from Corey Wood on 2006-04-29 08:37:24
I'm an exchange student in Bamberg and each morning on my way to class I ride by the Fäßla Brewery, the smell of the fresh beer in the morning is amazing. I would have to say that my favorite Fäßla Bräu so far would be the Weizla, it's a wheat beer as the name would imply, it looks like a pils and tastes absolutely amazing. The brewery can be pretty busy though, so if you are looking to just sample some of the beers you might want to try the Kneipe in the Fußgängerzone, which even has specials through the week, so if you plan ahead you can try each beer for one euro a piece
---
Comment from Martin T. on 2006-06-17 08:11:00
Superb brewery (visually) right in front of Spezial on Obere Königstrasse. They have 2 beers on tap, the Pils and Lagerbier, the rest being available in bottles. The 2 I had weren't especially Franconian in confection, but were clean and drinkable. Lots of characters stand in the schwemm on weekends, makes for some very curious people watching!

Gold Pils (tap review):
-A ring of foam stands above the transparent, aqueous golden.
-Dry hay and herbal supporting hops make up most of the flavor profile.
-Very clean, watery, and frail-bodied, just too light and characterless for my tastes in pilsner.
-Aroma and flavor are consequential, no surprises here.
-Herbal hop bitterness lingers amicably.
-Tiny, spritzy bubbles can't revive this serviceable, but too-easy-for-the-region pils.

Zwergla (bottled review):
-Frothy foam and clear reddish-brown hues adopt an icea tea look after but a few minutes.
-Like their Pils, this has an aqueous, überclean feel, which is ridiculously drinkable.
-Toffee and roastiness present simple ideas to the flavor spectrum.
-Charred meats subtly suggest depth in the nose.
-Flaky roasted malt bitterness rises in the back.
-The tiny bubbling and lean body are too slippery for my tastes.
-Everything's so timid and watery, this is ultimately boring and appears to be brewed for the masses.
---
Comment from Andrew Clarke on 2006-10-22 14:32:19
Stayed here in August 04 for 3 nights. Great value rooms.;Clean with a decent breakfast. Beer not half bad either! Although perhaps not as charachterful as some others in the region, still a damm sight better than most of the muck we have to put up with in Ireland. Shame they don't do a rauchbier. Looking forward to a return trip next month.
---
Comment from Andrew Clarke on 2006-11-19 14:00:14
10 of our group stayed here. Accomdation incredibly good value. Somewhat basic but rooms clean and warm. No complaints. Don't bother with the breakfast. Nothing to write home about. Pils was very good. Lager also good but we all preferred the pils. Very much a local working mans pub with punters downing beers at 9am! Owner very friendly. Well worth a visit.
---
Comment from Edo on 2007-01-02 11:47:21
Spend the night here in a good and clean room. Breakfast was also good. Had the Fässla Lager from tap. An excellent brew. The tap room is very noisy and smoky, but nevertheless a good place to stay.
---
Comment from Mike Nelson on 2007-07-25 07:59:25
I am an American engineer fresh out of college. I recently went to Europe for the first time and toured Germany with some family. We drank plenty of the local beer at each town (and I have a huge collection of used beer-mats to prove it). By far, my favorite drinking experience was at Fassla. Every beer there (and we tried them all) was smooth and very balanced. On top of that, the restaurant was a neat hole-in-the-wall type of place with very good, pretty cheap food. We also just happened to be there when the locals were celebrating one of their friend's birthdays, so we were serenaded by the drinking songs of some completely plastered, middle-aged Bamburgers... Bamburgians? Whatever, this place is great. Be sure to visit if you're in town and get the Zwergla!
---
Comment from J Kelly Scherer on 2011-03-13 11:52:12
I recently visited and stayed at the Brauerei Faessla and it couldn't have been a better experience. The beers and accommodations were great. My favorite beer was their weissbier but all were fresh and tasty. The room was bright, airy, and comfortable. Alles hat mir zehr gut gefallen, vielen Dank!
---
Comment from barry on 2013-10-11 03:42:35
Worth visiting once for the ambience. Probably the best Schwemme in Bamberg and the inside rooms also very characterful. But, although all the beers are quite tasty, IMHO, they are so vastly over carbonated, thus ruining the taste. Visited a number of times over the last 5 years but didn't bother this year (Sept 2013).
---