Stern-Bräu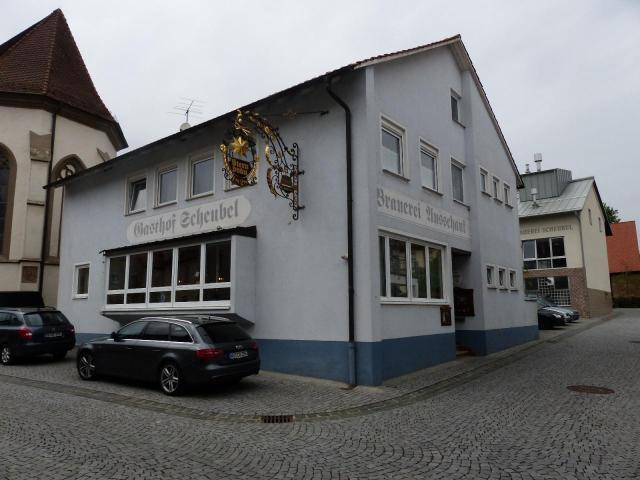 Kirchplatz 12
Schlüsselfeld
96132

0 95 52 3 20
Opening Times
Monday
Closed
Tuesday
09:00-24:00
Wednesday
09:00-24:00
Thursday
09:00-24:00
Friday
09:00-24:00
Saturday
09:00-24:00
Sunday
09:00-24:00
Back to the brewery search.
---
More images of Stern-Bräu
---
Upload your own image of Stern-Bräu
---
Comments
Comment from guppis on 2006-08-31 01:54:46
Very good Fest Beir. I will stop for more.
---
Comment from Jan-Erik Svensson on 2007-11-10 05:13:59
A superb Hell with a perfect malt and hop balance. Powerful with some aroma but by no means heavy. Clean and simple. The Dunkel is more on the sweet side with some smoky phenols.
---
Comment from matw on 2010-07-05 12:21:58
I liked this place. A bit of atmosphere in the bar, and for once I wasn't the only person in the place. They had a very good Helles but and even better Rauchbier. Unfortunately I didn't manage to get the name of the rauch, but it was so good I had 3 and almost missed the bus back to Bamberg. You can get to Schlusselfeld on a bus that leaves Bamberg Bahnhof at 1300 and go back on a bus at 1610, which leaves you 2 and a bit hours to discover the delights of this lovely little market town. Well worth the time.
---
Comment from DougN on 2010-09-23 08:34:34
One of my favorite places for lunch that is easily accessible from the A3 autobahn. The building seems to be from the 60s or 70s and is not an especially attractive venue for drinking beer. But the Wirtin is always friendly and the fellow customers polite. I have never drunk a Rauchbier there (as another poster had), only the Helles and Festbier both of which are high quality. The ham plate is from their own pigs and may be the best smoked ham I have ever eaten in Germany.
---
Comment from FredW on 2014-01-25 21:24:45
I have heard rumors that their beers are now brewed by Friedel Zentbechhofen. Any info appreciated.
---
Comment from Scott on 2015-05-23 19:35:19
Fred, their website confirms that they have ceased brewing and their beers are being provided by der Brauerei Friedel in Zentbechhofen.
---
Comment from Richie on 2017-12-27 05:03:24
---
Comment from Richie on 2017-12-27 05:07:59
There seems to be some confusion regarding Sternbräu. There is another one in Elsendorf, which is has it's recipes contract brewed as stated above. The one in Schlüsselfeld looks to be very much still brewing. Have not been to either one yet but hope to get at Easter and will report back. Might even go by Elsendorf if time permits as I'd prefer to see a beer contract brewed then totally go by the wayside. They seem to have a nice pension with food and they have a beer that will at least approximate what they once brewed. At least, they're being honest about it on their website.
---