Mahrs - Bräu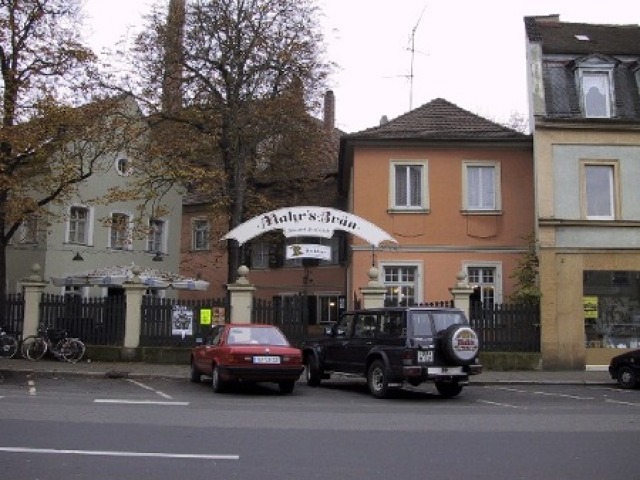 Wunderburg 10
Bamberg
96050

09 51 / 9 15 17 - 0
Closed from Sunday 3pm to Monday 4pm.
Opening Times
Monday
16:00-23:00
Tuesday
09:00-23:00
Wednesday
09:00-23:00
Thursday
09:00-23:00
Friday
09:00-23:00
Saturday
09:00-23:00
Sunday
09:00-15:00
Back to the brewery search.
---
Upload your own image of Mahrs - Bräu
---
Comments
Comment from Wayne Rodrigue on 2003-01-20 05:23:56
The best bock bier on the planet! The atmosphere is truly a beer drinking experience with the fireplace, low ceilings and all the history in this brau stubel. Plan on spending a few hours. Down the street is Keesmann Braurrei. Stop in for a crisp delightful pils.
---
Comment from Jos Brouwer on 2003-02-03 14:21:10
Truely a classical experience. There is a lot of history connected with Mahr's, and the brewery tap is a must visit. Good range of beers, my personal favourite being the "U" - ungespundetes, available on draught after 4pm. Also highly recommended is the Weizenbock (Wheat Bock), available from Aschermittwoch (which is usually around mid Februari). Good food too - try the "Riesen Salad Teller" - don't expect salads to be vegetarian in Franconia.
---
Comment from Jan-Erik Svensson on 2003-03-28 06:47:40
While Spezial has the best beer in Bamberg, this place has most atmosphere. And the beer is o k too.
---
Comment from Tom Perera on 2003-04-30 17:37:37
Here you FEEL beer tradition. Through the courtyard, in the hall and then the taproom. Look at the old worn oak. How many ages of man have sojourned here on their Earthly voyage.
---
Comment from Richard Sanders on 2003-07-23 08:56:26
I cannot rate this brewery and its products too highly it is my favourite in Bamberg and in the whole of Germany come to that. The pub is brilliant and so to is small outside beer garden. The atmosphere is always friendly and welcoming. The first place to head for when going Bamberg.
---
Comment from Sebastian Burgis on 2003-08-27 13:06:54
The best beer in the world and my favorite !!!!!!!!! I`ve been grown up with this shit !
---
Comment from JW Dirkse on 2003-10-08 14:43:37
Sunday afternoon walks always seem to end in the Mahrs Brau bier garten with a kellerbier or Pils. Make a point of trying the Gig and Bock or other seasonal beers if they are on tap. The food and atmosphere inside are excellent and the people are great. Someday I'll tell you about the night we accidently walked in on the woodworkers guild private party.
---
Comment from Kari Ylänne on 2004-09-02 10:15:59
To put it mildly "U" is a fantastic beer and the brewery tap is magic! Lovely atmosphere. Even food is better than average pub grub in Germany.
---
Comment from Jim & Wendy Stebbins on 2004-10-17 10:15:08
Walking in the Mahrs is like stepping back in time. The first room is very small,dark,traditional German atmosphere, with a tile "kacheloffen stove.There is a larger dining room in the back.Lots of older locals standing @ the Schwerm,with their baskets of lunch they brought from home.I find this very charming.Everyone was friendly & the bier was great,with a full-bodied taste.However,if I were a health inspector I would give it a "C" on cleanliness.Also,a very nice bier garten,surrounded by white picket fence & full of trees.Next door is a braueri gift shop.
---
Comment from Freddie Valenzuela on 2005-04-14 08:22:58
In addition to having some of the best beer around. This is among the oldest if not the oldest. Brewies in Bamberg.
---
Comment from guppis on 2006-06-13 02:10:18
My favorite of the downtown breweries.
---
Comment from Martin T. on 2006-06-17 08:36:04
Right in front of Keesmann, this is yet another classic beer establishment in Bamberg, with wooden warmth and 2 gravity cask beers at a time, namely the Ungespundetes and the Pils. Both were okay, but finished with a mineral touch which suggested hard water. We sat in the biergarten, and it took forever to get service. The waitress, while being very nice, was apparently the only one serving the Gaststätte and biergarten at once. The biergarten is very comfy though, and makes for a pleasant experience.

Ungespundetes (bottled and tap review):
Funky, dusty earth gets quickly acquainted with the prevalent, quite dry yeast and grassy hops...Oranges swim through the tired body as dust reappears in the back...Not expressive enough for my tastes, a bit chaotic too...

The gravity cask version at the brewery was slightly better with its earthy and grassy hop flavors mingling with caramel sweetness, but the dry, mineral water finish and aqueous feel were detracting from the pleasure to be had. There are much better examples around Franconia.

Pilsner (tap review):
-The thick foam recedes to a ring around the clear golden.
-The smooth, full body, emulates thickened water after getting acquainted to it.
-Finishes with a mineral touch and shy hoppiness.
-Some hay converses with the fruitiness of pears and plantanes.
-Both beers on gravity cask here were extremely low in carbonation and ended in a watery, mineral note which suggested either a too hard brewing water, or simply the fact that they don't handle natural carbonation as well as most Franconian breweries.

Weisse Bock (bottled review):
From a clear fruity bubblegum perspective, introspective bready yeast appears...Floating grapes and prunes encounter gloating cloves...Lighter spiciness than Aventinus but as pleasantly fruity, without reaching the master's level...
---
Comment from Andrew Clarke on 2006-10-22 15:00:09
I rate this as my favorite all round brewery. Whilst the Schlenkerla is undoubtably a world classic, I just found the ungespundetes and the Bock ansolutlely fantastic,classic beers in their own right. Both are eminently quaffable with the low carbonation of the former easy on the system. Both beers are extremely complex and taste just great. In summer the beer garden is great craic. Will be interested to see what is like in November;didn't drink inside last time we were there.
---
Comment from Andrew Clarke on 2006-11-19 14:21:21
Stefan Michel gave 10 of us a tour of brewery on 9th November. Really impressive guy and a beer purist. All ingredients are organic. Ungespundetes was as good as ever. Brilliant value at €2 a 50cl mug.Just superb. Also tried the weissbier which was just amazing. Can't rate this place highly enough. Great rumpsteak too!
---
Comment from Terry Clark on 2008-04-29 09:10:46
I love this place , beer is great and typical old german atmosphere.
---
Comment from William Moran on 2008-05-03 02:55:02
Brewing beer since 1657, for a good reason. Love the Mahrs keller and hell beer, if not the best beer on the planet then pretty darn close. The Brewer and beer garten have not changed much in a hundred years. I warm summer day in the beer garten. Life can not get much better. Food is good, service canbe better.
---
Comment from Andrew Clarke on 2010-07-26 04:00:49
11 of us here on 23rd July. Was very busy and they found us room at the back of the brewery but "U" was not good from the tap in that room. It was average and we thought it was just not as fresh as beer from main bar tap at front of the brewery. Make sure you only get the beer from there. That was like a different beer though our overall impression was that the "U", although excellent, was just not quite as good as in the last few years.
---
Comment from DougN on 2010-09-23 10:40:11
The brewery that defines the Franconian style. I am a big fan of the Winterbock, which they will only serve later in the afternoon.
---
Comment from barry on 2013-10-11 03:59:54
Agree with most of the other comments. Without a doubt my favourite brewery Stube in Bamberg, in spite of some definitely iffy experiences (read the message board for these). However, in spite of occasional shortcomings in service, a Seidla of U by the Ausschank still remains a wonderful drinking experience. Opinions are divided on U but, IMHO, it is one of the most interesting beers that I have tasted. Unlike some beers in Franken, carbonation is very low (not surprising as it ungespundet and, after 4 pm, served direct from the cask) making it very easy (too easy!) to drink. To my taste, the most yeasty beer in Franken, which suits my Manchester-trained taste buds. Oh to be sitting in there now!
---