Brauerei Sauer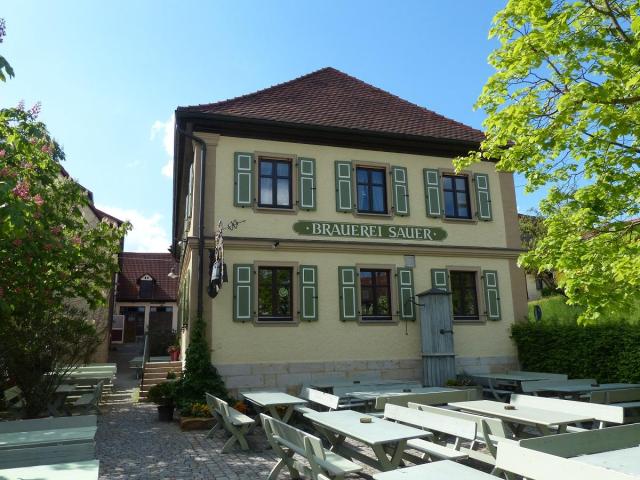 Sutte 5
Rossdorf am Forst
96129

0 95 43 15 78

Sauer-Rossdorf@t-online.de
Opening Times
Monday
Closed
Tuesday
11:00+
Wednesday
11:00+
Thursday
11:00+
Friday
11:00+
Saturday
11:00+
Sunday
11:00+
Back to the brewery search.
---
More images of Brauerei Sauer
---
Upload your own image of Brauerei Sauer
---
Comments
Comment from JW Dirkse on 2003-10-08 15:02:45
I thought I had found the perfect beer when I tasted this unfiltered lager. On second thought it isn't perfect... but it's darn close. The quest continues. So many beers, so little time.
---
Comment from scott rankin on 2004-07-27 05:56:07
Awesome. The food was good and the beer was great. All of it was very, very reasonably priced. I'll be back.
---
Comment from Timothy Holian on 2005-02-16 23:07:39
Rossdorfer Pils: full rich yellow in color, with a pronounced hoppy/spicy nose. Early to middle hop/malt balance fades toward hops at end. Overall a smooth, clean brew, a solid example of the style.
---
Comment from Marcus on 2006-02-11 02:38:35
As some other guy already said here, the Urbräu is one of the best beers there is. The Gasthaus is great too. Don't miss Weizen and Bockbier!!
---
Comment from Sarah on 2006-04-16 21:33:44
Fantastic beer! I lived across the street from this brewery for two years and received a rack of beer from here every month when I paid my rent! What a deal!! Can't wait to get back and have another!
---
Comment from Nick B. on 2006-05-16 07:53:41
Der Keller der Brauerei ist echt herrlich (noch einer meiner Kieblingskeller), und das Bier wirklich gut: hell und trocken, aber auch malzig. Gutes Zwetchbenbammes gehört der Brotzeitkarte auf dem Keller, und gutes bürgerliches Essen ist in der Gastätte zu genie�en. Die untenstehenden Fotos wurden am letzten Tag vor dem Ende der Kellersaison 2005 gemacht. (Die GPS Koordinaten des Kellers sind 49.866, 10.998; der Brauerei 49.868, 10.998.) [[[paragraph]]] The brewerie's Keller is quite lovely (another of my favorite Keller), and the beer is really good: dry and pale, but also malty. Good Zwetschgenbammes (plum-tree smoked beef) belongs to the menü at the Keller, and gut homey food is to be enjoyed in the Gaststätte. The Fotos below were taken on the last day of the Keller season in 2005. (The Keller's GPS coordinates are 49.866, 10.998; the brewery's are 49.868, 10.998.) http://i80.photobucket.com/albums/j175/erlangernick/sauer_keller_rossdorf_1.jpg http://i80.photobucket.com/albums/j175/erlangernick/sauer_keller_rossdorf_2.jpg http://i80.photobucket.com/albums/j175/erlangernick/sauer_keller_rossdorf_3.jpg http://i80.photobucket.com/albums/j175/erlangernick/sauer_keller_rossdorf_4.jpg
---
Comment from frank mcmenemy on 2006-11-09 10:16:39
I sampled the Sauer Bock last Sunday (5th Nov) whilst on a cycle trip encompassing Bamberg,Geisfeld, Rossdorf.a.F & Pettstadt.Without any shadow of a doubt, the outstanding beer of the day - possibly the year- was enjoyed at Br.Sauer.This bock is a seriously complex beer, flirtatiously flowery descriptive prose is simply redundant, only the sensation of the beer swilling around one's mouth can do this extraordinary brew justice.
---
Comment from Jan-Erik Svensson on 2007-01-28 05:07:18
Lively but not so old-fashioned pub. The Lagerbier is close to an ordinary but adstringent Hell. The Pils is a little softer and better.
---
Comment from Jürgen Wening on 2008-05-07 13:55:16
Just one word: Overwhelming. We sampled two sorts of beer at the seriously romantic Keller today: Braunbier, only brewed in the month of May, and Lager. Both are of clearly similar character, but uncomparably to other beers. I'm used to extraordinary beers, but that Braunbier is of a different class. Superb!!! I've got a new favourite.
---
Comment from Mark Andersen on 2009-09-24 12:39:16
The heavenly Braunbier is my new favorite beer of Franconia surpassing even Barth Senger of Schesslitz. I could have stayed there the entire day. I don't know how you could make it any better.
---
Comment from Nick B. on 2010-08-27 00:29:59
In the nearly 5 years since my first comment above, I've found the Keller itself to be as lovely as ever, but the beer not always in great shape there. There's what I call a "waxy" note, especially in the Braunbier. This isn't the case at the brewery though, so I suspect the problem is in the serving lines at the Keller. The bottled Braunbier is very nice, a soft, mild, gentle, malty beer, which reminds me of a lagered brown ale, though like the other beers, could use more hops. Also a very fine Hefeweizen, if you like that. If the "grobe hausgemachte Bratwurst" is on the menue, get it!
---