Brauerei Herrmann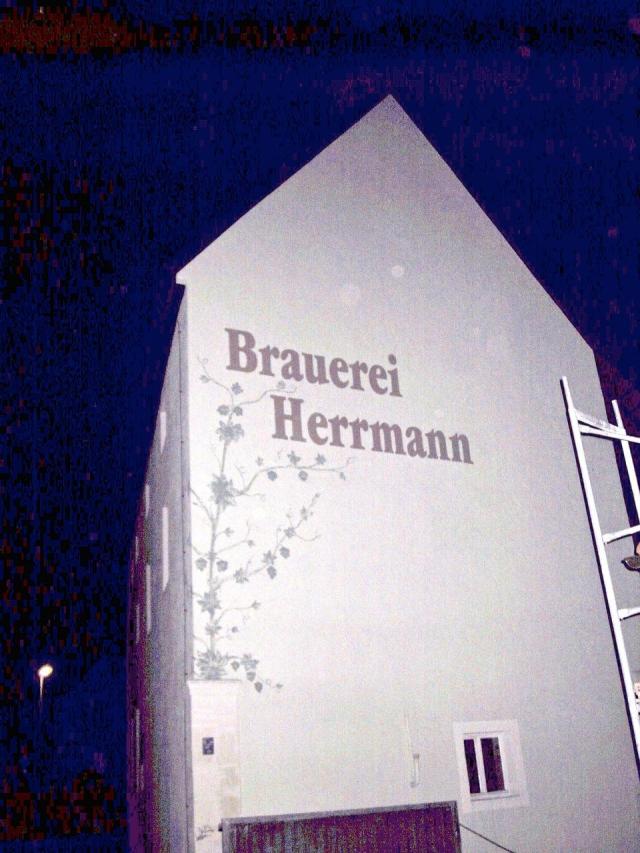 Brückenstrasse 3
Ampferbach
96138
Small Brewery (less than 1000 hl/year)

0 95 46 / 3 72
Opening Times
Monday
09:00+
Tuesday
Closed
Wednesday
09:00+
Thursday
09:00+
Friday
09:00+
Saturday
09:00+
Sunday
09:00+
Back to the brewery search.
---
More images of Brauerei Herrmann
---
Upload your own image of Brauerei Herrmann
---
Comments
Comment from Larry Herrmann on 2003-08-12 17:29:37
I have visited this brewery, and regularly order the beer. Obviously, because of my last name, I have an interest in this beer, but no relation to the brewery or owners. This beer is a wonderful example of the franconian beer style. The owners were gracious and friendly. Make sure the beer is fresh, as it is best that way. Shipping can make it old. Cheers, Larry
---
Comment from Jim & Wendy Stebbins on 2004-11-01 11:32:37
Herr Erwin Herrman, the braumeister,was very friendly,& delighted when we showed him the photo of his braueri from the website. The bier was smooth & full-bodied. Wednesday is "schlachtschussel"....German version of a "pig-picking." Atmosphere was lively locals in a clean,simple/plain small room
---
Comment from Jan-Erik Svensson on 2007-11-07 09:47:20
Very good Kellerbier with some dry chocolate in the body and a very fresh, aromatic hoppiness. As good as Franconian beer gets.
---
Comment from Jürgen Wening on 2008-08-25 03:34:23
Solid and perfectly fine Kellerbier.
---
Comment from JACEK HARAZIM on 2009-05-29 05:24:57
i am collector of label and about new other akcesori.i chew 14000 egzemplar.please new and oldest,specjal copies of labels supports and crown caps.thank you very much jacek harazim 44-270 rybnik ul.gen.andersa 7a/7 polska poland
---