Brauerei Hartmann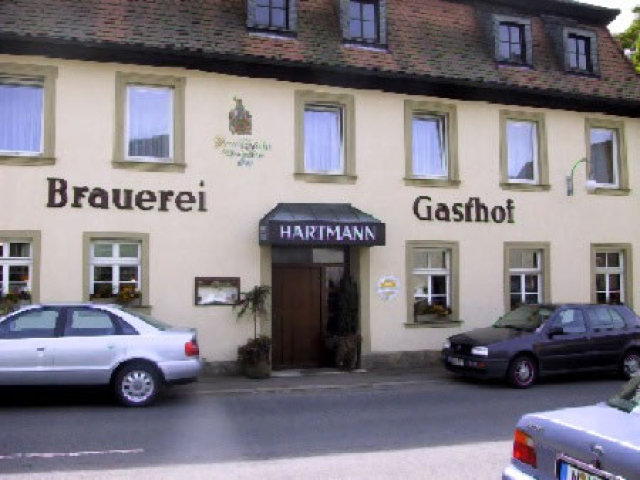 Fränkische Schweiz Strasse 26
Würgau
96110

0 95 42 / 92 03 00
The brewery is between the Schesslitz Krieskrankenhaus and Würgau bus stops (the stops are 3 km apart) on highway B22 (which is Fränkische Schweiz Strasse)
Opening Times
Monday
09:00-22:00
Tuesday
Closed
Wednesday
09:00-22:00
Thursday
09:00-22:00
Friday
09:00-22:00
Saturday
09:00-22:00
Sunday
09:00-22:00
Back to the brewery search.
---
Upload your own image of Brauerei Hartmann
---
Comments
Comment from Timothy Holian on 2005-02-16 22:53:27
Hartmann Felsentrunk Landbier: Rich malty nose, full amber color, generally malty body with a slightly smoky mid- to aftertaste. Hops gain momentum toward the end to provide needed balance. Very pleasant brew, a good example of the style and what makes the region special.
---
Comment from Uwe Bodenschatz on 2008-08-28 06:36:02
Very poor service or better ignored by the staff for more then 30 minutes left before getting served just 5 minutes further the north brewery lindner in steinhuebel 5 star
---
Comment from Russ R. on 2009-12-08 15:21:47
We greatly enjoyed this upscale pub and restaurant. As Advent had started, the pub was richly decorated for Christmas which added to our pleasure. The beers were top notch. The lightly-smoked Felsentruck was delicious, the Dunkles (Erbschraenk) was impressive and the Festbier was sweet and long. We spent the night in nice rooms upstairs.
---
Comment from DougN on 2010-09-23 09:04:43
The Felsentrunk is worth a short visit; the hiking from Wuergau (during which other local beers can be sampled) makes a longer stay worthwhile.
---