Sankt Georgen Bräu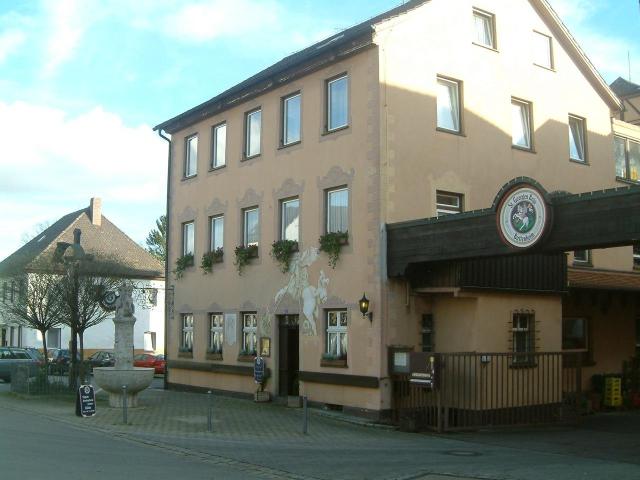 Marktstrasse 12
Buttenheim
96155
Large Brewery (more than 100,000 hl/year)

0 95 45 / 4 46 - 0
When the St. Georgen Keller is open, the brewery Gasthof is closed in the afternoons.
Opening Times
Monday
10:30-21:00
Tuesday
Closed
Wednesday
10:30-21:00
Thursday
10:30-21:00
Friday
10:30-21:00
Saturday
10:30-21:00
Sunday
10:30-21:00
Back to the brewery search.
---
More images of Sankt Georgen Bräu
---
Upload your own image of Sankt Georgen Bräu
---
Comments
Comment from T.G. Fisher on 2003-03-14 17:30:51
I came across this beer in Dinkelsbuhl by accident. I bought it because I collect German beer labels. I will buy it again when I am in Germany because it is a sehr gut bier.
---
Comment from Jan-Erik Svensson on 2003-03-31 09:05:37
Very fruity and hoppy beers reminding of some US micro-brews. Either you like the sharpness and power, or you dislike the lack of subtle qualities. I like it as a rural Landbier interpretation of Franconian lager.
---
Comment from Richard Sanders on 2003-07-23 17:56:12
Well worth the visit good food and beer. Especially as it is next door to the Lowenbrau Brewery.
---
Comment from Dr. Heinzel on 2003-12-02 15:57:39
Light brown, only slightly filtered Kellerbier: massive spicy hop aroma,hard to find in average german beers; very dry finish. Compare both Kellerbiers of Buttenheim and find out which one's the best!
---
Comment from Carl von Bibra on 2004-06-04 17:59:13
Great beer. A beer which can be found an hours drive from the brewery. The Keller Bier is worth seeking out. Leaving aside wheat beers and keg beers, this beer may be one of the best Franconian beers.
---
Comment from D. Ross on 2004-09-11 09:11:26
I particularly like the pils. It's not really a pils, but the Germans get confused when beer isn't pigeon-holed. It's cloudy, (ungespundet), not gassy, and served in 0.5 litre glasses. Tastes very nice. Kellerbier is also good though!
---
Comment from D. Ross on 2004-09-21 05:57:56
OK, so after a recent visit to Bamberg, I thought I should clarify my previous comment. When you buy the pils from any old pub or in bottle, it's filtered and gassy. But quite tasty. When you drink it at the brewery, it's ungespundet, unfiltered and tastes great!
---
Comment from Jim & Wendy Stebbins on 2004-10-17 10:58:22
The gaushaus is very clean,traditional,quaint,with very good food & atmosphere.The keller bier is best. The birthplace of Levi Strauss is a short walk down the street.The St.Georgen Bier Keller is a about 1/2 mile away, on a hilltop full of trees.It opens @ 3:30.There is a wonderful view of the countryside.It holds about 300 people.You order from the counter inside& they have excellent German food, including "geruphter" a Bavarian cheese,butter & onion spread with rye bread & pickles.The Lowenbrau Keller bier garten is next door.This is one of our favorite places.
---
Comment from guppis on 2006-06-13 02:06:51
Great location, food, and logo. I wish the bier lived up to it. The bier is marginal at best.
---
Comment from Brigitte Hilse on 2006-06-22 16:47:20
Moechte Ihnen nur mitteilen,das wir uns sehr gefreut hatten ein gutes Bier hier in Colorado zu finden, besonders, da wir doch Buttenheimer sind. Bekamen das St Georgen Brau Keller Bier. Wir wohnen In Fort Collins, CO USA Viele Gruesse aus dem fernen Land Brigitte & Guenther Hilse Hilse
---
Comment from Jojmaster on 2006-06-30 04:48:55
Fucking sludge, gimme beer!
---
Comment from Sam Fugarino on 2006-08-01 09:08:16
This was my favorite beer when I was stationed in Germany. Back a couple of years agdo, we could buy the keller bier in Atlanta. For for some reason, it is no longer available.
---
Comment from Andrew Clarke on 2006-11-19 12:44:02
Their Keller Bier was by common consent the best beer of our recent beer tour(last w/e)to Bamberg and around. Beer as it should be. Could not fault it. Truly magnificent on tap in the pub attached to the brewery. A world classic. Pub itself good with excellent local fare but staff not as welcoming as Lowenbrau.
---
Comment from Andrew Clarke on 2008-07-03 15:03:10
Brewery tap was closed so we went to the keller on the edge of the village. Wonderful setting but beer not as memorable as before. Was a little sharper than we all remembered, not the amber nectar of november 06. Maybe it was just a bad batch. Intend to revisit later in year or next summer to find out.
---
Comment from Jürgen Wening on 2009-02-11 01:15:14
Big breweries produce boring beer. The same here IMO. Tried the ordinary Vollbier, the Keller and the "Landbier" yesterday. The Vollbier was quite good, the Keller drinkable, the Landbier really bad. The only thing that made the evening nice was meeting a group of funny scotsmen at the brewery tap. We really felt, we needed a better beer afterwards, so moved to Schwarzes Kreuz at Eggolsheim. Then the evening became good!
---
Comment from Russ R. on 2009-12-08 16:09:45
I was greatly disappointed to find the pub shut on a Saturday at 16:00! This was especially confusing as the posted menu said the kitchen was open every day from 11:00 to 21:00!
---
Comment from Nigel on 2012-07-20 08:09:53
Surprised at some of the comments on here, as i found the Kellerbier to be excellent
---