Brauerei Winkler
Melkendorf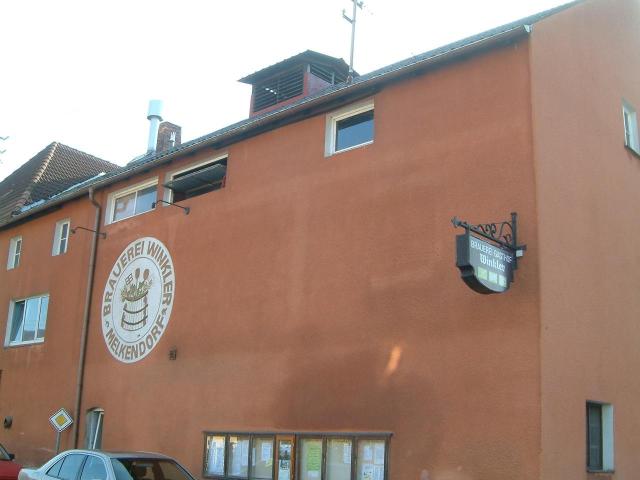 Otterbachstrasse 13
Melkendorf
96123
Stopped brewing in 2015
Small Brewery (less than 1000 hl/year)

0 95 05 2 24

brauerei-winkler@online.de
Opening Times
Monday
16:00+
Tuesday
Closed
Wednesday
16:00+
Thursday
16:00+
Friday
10:00+
Saturday
10:00+
Back to the brewery search.
Other cities in the same district (Landkreis) as Melkendorf
---
Upload your own image of Brauerei Winkler
---
Comments
Comment from Jan-Erik Svensson on 2003-04-07 07:12:13
Fresh, fruity, sweetish Lagerbier with some balancing hops in the finish.
---
Comment from Paul Rose on 2003-05-28 04:14:04
Non touristy real German Brauerei and village focal point.Beer is more of a sweet hoppy ale than a lager,goes down very easy,service is excellent,surroundings basic,beer garden for the summer,well worth the taxi ride for an evening out and only 1.50 euro's for a half litre.Happy drinking !
---
Comment from Bill on 2003-09-15 13:38:59
A true local. Some Bamberg families head out here for an early Saturday dinner - that's THEIR version of Brotzeit (a nosh and beer?)
---
Comment from JW Dirkse on 2003-10-09 09:50:21
Local hang-out which gets very crowded at times. Specialty is deep-fried and peppered chicken. Beer is typical for the region and excellent. Try the pepper schnapps just for grins. We tried to find a new brewery every weekend, but made a special point of returning here with friends on a regular basis.
---
Comment from Jürgen Wening on 2008-07-21 00:52:29
Modern tap room, old fashioned brewery. The single produced Vollbier is a dryish, rich and very hoppy brew. A standard 'Hausbrauer' beer in this part of franconia, reminiscent of the beers of Geisfeld (Krug) and Stublang (Dinkel)
---
Comment from ToddA on 2009-10-18 11:03:20
Interesting place with lot's of potential. Beer was a butterscotchy mess. Too bad as this could be the best place if they worked on it...
---