Brauerei Eichhorn
Dörfleins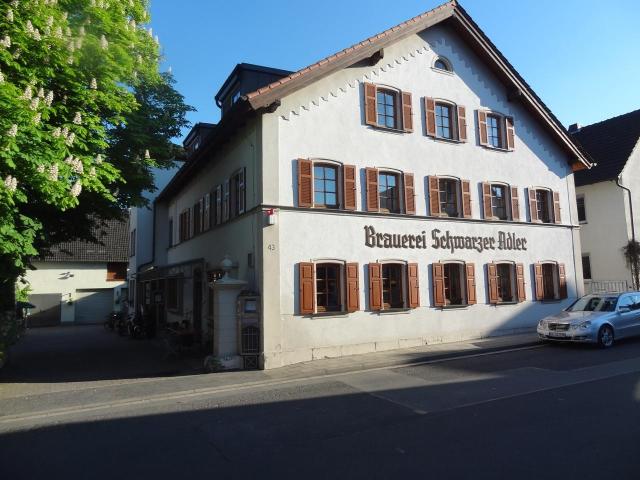 09 51 / 7 56 60
Also known as Schwarzer Adler.
Opening Times
Monday
Closed
Tuesday
09:00-22:00
Wednesday
09:00-22:00
Thursday
09:00-19:00
Friday
09:00-22:00
Saturday
09:00-20:00
Sunday
09:00-22:00
Back to the brewery search.
Other cities in the same district (Landkreis) as Dörfleins
---
Upload your own image of Brauerei Eichhorn
---
Comments
Comment from Jan-Erik Svensson on 2003-04-07 06:57:02
A little too thick and malty pale beer.
---
Comment from Eddie Pierce on 2004-09-05 19:54:30
My wife is from Dörfleins Germany. We go over there every year to visit her relatives. Always stop in at the Brauerei Eichhorn a half dozen times or more every time we are over there. Love the place. Been going there on and off for 30 years. Greatest beer ever.
---
Comment from Christine P on 2004-09-18 13:46:04
Love this beer! I am from Oberhaid and Eichhorn Bier is all I drink when I am there. Danke, Christine
---
Comment from Robert D on 2005-08-22 11:51:11
Excellent dark beer, nice location and if you're looking for something light to eat a great place to spend a warm summer evening.
---
Comment from Nick B. on 2005-12-05 01:47:51
The Gaststätte is an absolute favorite of ours and a true gem. I've only visited a few times as yet and have only had the winter bock. Said bock is so hell that it practically glows in the stein, and dangerously good. Brotzeit has been first rate as well. And Fred...they have a website: http://www.brauerei-eichhorn.de
---
Comment from scott rankin on 2006-04-03 04:15:22
Great brauerei. I have been there twice and loved it both times. First time had the bock and it was very good. Yesterday had the keller and it was very refreshing after a bike ride.
---
Comment from Jürgen Wening on 2008-07-21 01:14:15
If there's a franconian version of an 'Einheitsbier', that's it. The place is busy, as it is very close to the city of Bamberg. But the beer lacks of taste and character, that's compensated by lots of co2-bubbles. I have to admit, I didn't like it.
---
Comment from Russ R. on 2009-12-08 16:01:30
This is a classic pub that's easy to reach from Bamberg. The Kellerbier is delicious and had me ordering another although I usually try to drink the range. The Bockbier was light and dangerously drinkable. I shall return!
---
Comment from mike004 on 2010-02-23 07:19:22
A hidden gem, a short bus ride from Bamberg town centre. You could drink the lagerbier all day long (which is what the locals do) .
---
Comment from barry on 2013-10-12 13:21:41
We stayed in Dorfleins for 2 weeks, so Eichorn was our local. Not sure what to say about it; ut's a really nice place but limited and, often, erratic opening (often, they just don't seem to bother) and, perhaps, not the friendliest and most welcoming of hosts. The beer is good enough: a lightish but tasty kellerbier and quite a good pils. Go and see for yourself but check before that they are open. While you are in Dorfleins, if the weather is good and it's the season, visit the Diller keller for some Honig from Tiefnellern (signpost right immediately after you cross the Maine bridge). Lovely and very friendly keller.
---
Comment from Barry Taylor on 2019-04-29 05:58:41
Much the same as my first visit; maybe opening times a bit less erratic but maybe we were just unlucky before, certainly very popular with locals. Kellerbier still excellent and a lovely Dunkel and an interesting Rauchbier added to beer menu. Worth the short trip from Bamberg but watch the bus & train times!
---