Brauerei Schwan
Burgebrach
More information on Burgebrach can be found at www.burgebrach.de (German)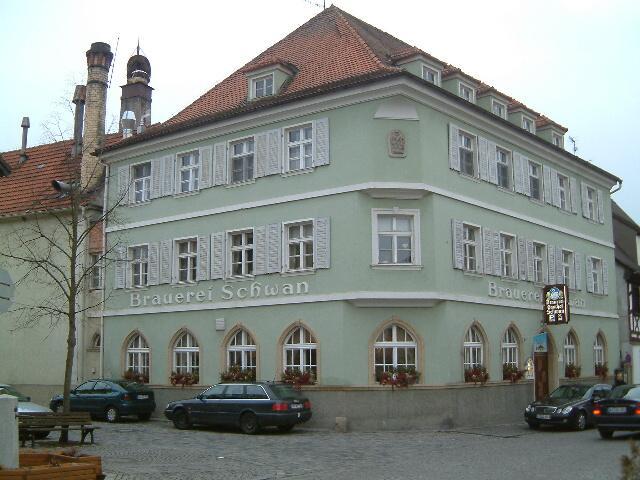 Hauptstrasse 16
Burgebrach
96138

0 95 46 / 3 06

info@schwanawirt.de
Brauerei Schwann is roughly 300 meters from the bus stop.
Opening Times
Monday
15:30+
Tuesday
Closed
Wednesday
15:30+
Thursday
15:30+
Friday
15:30+
Saturday
11:00+
Sunday
15:30+
Back to the brewery search.
Other cities in the same district (Landkreis) as Burgebrach
---
Upload your own image of Brauerei Schwan
---
Comments
Comment from Jim & Wendy Stebbins on 2004-11-01 12:18:43
The helles has a taste so light, it was almost too watery. The "Bock" was slightly smoked,full flavor.The atmosphere was extremely "old world" tradtional.A beautiful place inside with large,arched windows,heavy wooden beams & tables, with dark panelling on half of walls...nicely decorated with good service.
---
Comment from guppis on 2006-06-13 02:16:02
Great service, well prepared food, and a bier that will leave wanting more.
---
Comment from Jürgen Wening on 2007-07-11 22:46:18
Been to the Schwana-Keller yesterday and must admit, the Keller beer is very drinkable. Sweetish, but not in that malty way, somehow different...
---
Comment from Jan-Erik Svensson on 2007-11-10 05:17:44
Fresh, yeasty and soft Kellerbier with plenty of hops in the aftertaste. The Keller is a classic.
---
Comment from JACEK HARAZIM on 2009-05-29 05:26:15
i am collector of label and about new other akcesori.i chew 14000 egzemplar.please new and oldest,specjal copies of labels supports and crown caps.thank you very much jacek harazim 44-270 rybnik ul.gen.andersa 7a/7 polska poland
---