Brauerei Grasser
Huppendorf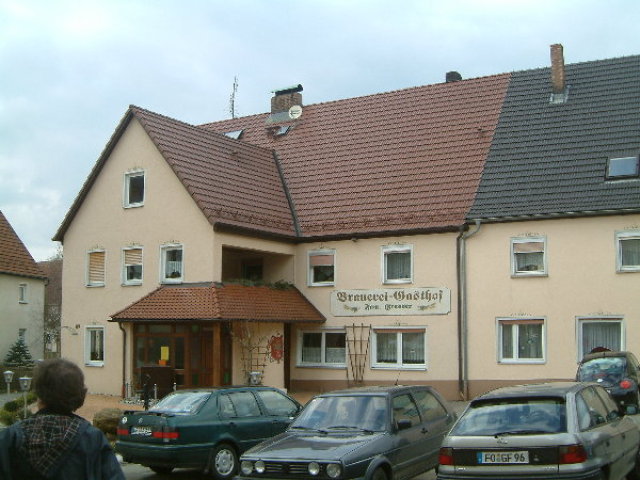 0 92 07 / 2 70

info@huppendorfer-bier.de
Opening Times
Monday
09:00-23:00
Tuesday
Closed
Wednesday
09:00-23:00
Thursday
09:00-23:00
Friday
09:00-23:00
Saturday
09:00-23:00
Sunday
09:00-23:00
Back to the brewery search.
Other cities in the same district (Landkreis) as Huppendorf
---
Upload your own image of Brauerei Grasser
---
Comments
Comment from Timothy Holian on 2005-02-16 23:36:31
Huppendorfer Vollbier: light amber in color, a good malty nose is balanced by ample hop content. A rich malty front lingers well into the aftertaste, when hops blend into the finish. Smooth and drinkable in any situation, a solid example of the style.
---
Comment from Jojmaster on 2006-06-30 04:46:01
Hm, you´re beautiful, it´s true... I saw an angel of that I´m sure it`s you... can´t get enough of that great Huppendorfer
---
Comment from Jan-Erik Svensson on 2007-11-10 05:37:58
A lively brewery tap with some good beers. The brown Vollbier balances chocolate with what could be a limestone harshness. Also the Pils is surprisingly good. I didn't like the Zwickel and Weizen as much as the other beers.
---
Comment from Russ R.r on 2009-12-08 15:19:39
A large pub/restaurant that dominates this small village. The Vollbier and the Bock were both tastey but I don't quite remember as it was near the end of a long day!
---
Comment from barry on 2013-10-13 07:07:33
Lovely little village with a large brewery whose Vollbier is widely available in pubs (e.g. Lohlmuhle, Forchheim) and bottles. However, it seemed much more tasty in Stube, which is quite modern. Good food and a nice location if you like looking at breweries - which I do!
---